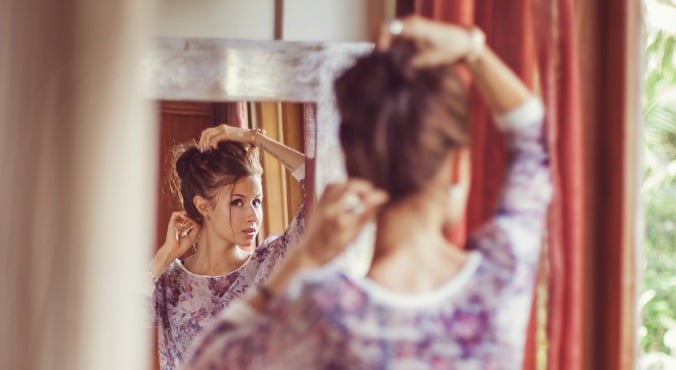 Image: iStock.
We're all familiar with the transformative powers of hair. A simple cut, colour or style change can make you look more sophisticated, more fun, more summery, more mysterious — you name it.
Your hair can even give you the impression of being an entirely different age. And yes, while a certain style can certainly make you look younger, it can go the other way, too.
1. Going the wrong shade of blonde
Lightening up seems like the first step towards youthful-looking hair, but Philips Haircare ambassador, educator and salon owner Lizzie Liros stresses the importance of choosing the right blonde.
"A lot of ladies want to go lighter because it softens their skin up a lot, but they don't understand that sometimes the lightness can actually affect their skin tone as well — it can bring out more wrinkles than normal," she explains.
"Women look a lot softer when they're more brunette, they get a lot more shine and silkiness back into the hair. Blonde hair can bring a lot of brittleness and dullness if it's not looked after."
2. Highlighting from above
But... highlights? They're youthful! we hear you say. You're right, but again, choose wisely. "A yellow tone can age someone by 10 years, and orange tones are very harsh on your skin. You need to keep it toned, really subtle, and really 'sun kissed'," Liros says.
The way they're positioned also makes a difference. "If [clients] want to make themselves look young and fresher they should always have their highlights coming from underneath, so it softens and there's framing, not coming from the top of the hair," she adds.
"Unfortunately, when they're coming from the top of the hair it's really harsh and they get a really harsh regrowth." (Post continues after gallery.)
Some of our favourite celebs with tortoiseshell hair
3. A haircut that doesn't complement your face
JOICO guest artist Kerrie DiMattia says a haircut that doesn't take your natural face shape into consideration can age you up. "For example, long hair and a middle part on someone who has a narrow oval face will make them look more drawn and severe," she explains.
Mary Alamane, owner and director of Royals Hair in Sydney, adds that your bone structure should also come into play.
Finding a stylist who can a) determine your face shape and b) advise you on what cut will best complement it is the key to overcoming this. DiMattia also recommends you consider a fringe, as it could lessen the appearance of ageing. "Whether it's a soft or heavy style, a fringe will cover up and detract from the forehead where lines tend to appear," she says.
4. Ignoring your hair's texture
"Getting a haircut that doesn't suit the texture of your hair will also contribute to a more aged appearance," DiMattia says.