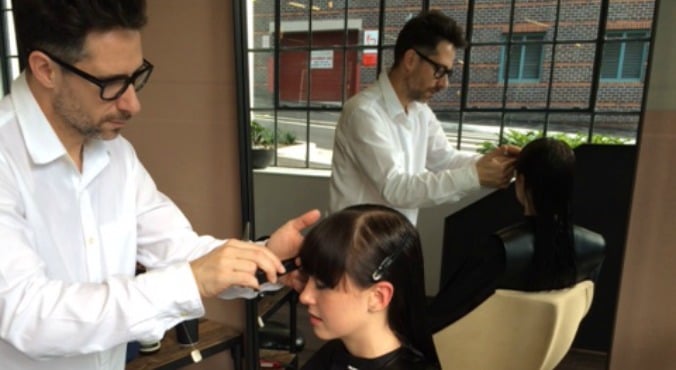 Image: Anthony gets to work on Helena's hair
Over the next few weeks, we're counting down the most popular posts from the Glow this year….
You know you've found a good hairdresser when you're willing to let them chop off six inches of your hair, without having to explain how you want it to look. Helena McGeorge decided to give her hair a dramatic makeover to coincide with an equally big change in her life this year – her first year of university. The rest of Helena's hair decisions, however, were left to her award-winning stylist, Anthony Nader from Sydney salon Raw. "I left it all up to Anthony – I told him about my hair and that I was excited for a total makeover and left it in his hands," Helena says, adding she had 'complete faith' in Anthony's expertise and ideas. Read on to find out how Helena's new style came about – and, more importantly, to see the beautiful 'after' shots.
Helena
What made you decide to make a big change? "I've probably had the same hair cut for over two years now… I guess it's always seemed easy having longer hair and not doing anything too drastic. And being a natural brunette, I've always dyed my hair darker to be lower maintenance. I guess with the big move to uni this year, I'm feeling excited about new and different things, and embracing a bit of change!" What sorts of things were you looking at to get inspiration for your hair transformation? "The internet makes it so easy to keep updated with what's trending and what new hairstyles the celebrities are showing off. I love scrolling through Instagram, Pinterest and Tumblr looking for new ideas and inspiration." Who is your hair muse? "Rihanna. She is constantly changing up her hairstyle and always manages to pull it off in such a confident and sexy way. She could make any style work!" Click through this gallery to watch Helena's hair transformation unfold.
Anthony
How long did this transformation take? "This fantastic transformation took approximately 4 hours, and I cut off a generous 5-6 inches." What did the transformation involve? 
I wanted to create thickness, which I did by cutting the ends blunt.  Adding a fringe also enhanced the bold new shape of Helena's hair, making it look much fuller than her previous style. The colour was done by Joshua Salib and the target here was to soften her very dark colour - we took her whole head one shade lighter. We also introduced fine foils all over to give Helena more of a 'halo effect' of softness, rather than having her hair all one tone. What is it about this new style that's exciting for you? I'm all about the 'lob' haircut this season. It's a hair cut that the girls want when they still want longish hair but don't want a conservative looking bob at the same time. It's really "having your cake and eating it" - and why not, I say! What sort of inspiration did you have in mind while you were doing Helena's hair? Helena had this long and overgrown mane that just hung and no shape what so ever (sorry Helena - but you agreed with me). I just had a vision of how Helena would see her new self and totally embrace her fun and flirty new haircut. It's all designed to make her  hair look and feel thicker and more shapely. Love this? Check out the rest of our The Chop series: Bye bye, balayage From Rapunzel to Rose Byrne "I cut 35cms of my hair off - here's what happened" The change-my-look haircut for girls who are growing their hair Diary of a Chop: Mia Freedman Diary of a Chop: Paula Joye Have you had a big haircut recently? Tell us about it! Or better yet, show us pictures...