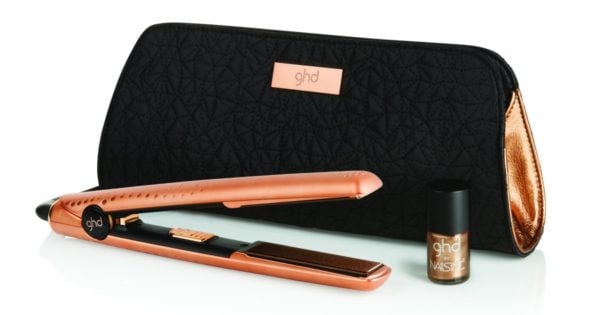 Chocolates. Champagne. Home trinkets. They all make lovely Christmas gifts, sure, but this year think outside the box. What about tracking down those presents that are (almost) priceless. The gift of many, many good hair days, for example – now that is something I'm hoping will pop up in my Santa sack this year.
If you'd like to bestow amazing hair to a loved one, look no further than these eight picks. I recommend also hiring the giftee a personal wind machine so they can shake their silky mane and pretend they're in a hair ad.
ghd Copper Luxe V Styler Set with bonus Nail Lacquer & Heat Resistant Bag $270.
When ghd actually stands for Good Hair Day, you know this is one of the most generous gifts you can give someone. ghds are some of the best straighteners on the market. The copper colour, carry bag and matching nail polish are just the cherries on top of one very sleek and shiny cake.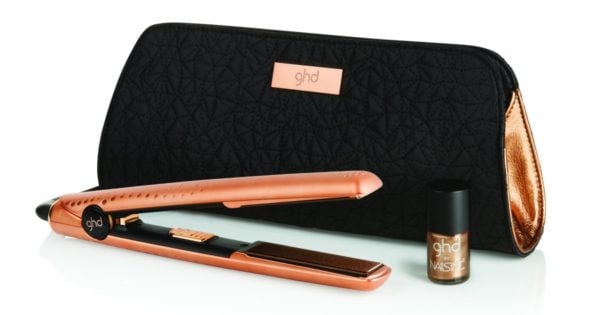 "Ghd actually stands for Good Hair Day." Image: Supplied.
GOLDWELL DUALSENSES 3 pack includes Blondes & Highlights Shampoo, Conditioner 300ml & 60 Second Treatment 200ml, $42.95.
This is one gift that probably won't make it out of my bathroom. If you know and love a blonde, for keratin's sake, buy them some of this good stuff. It perfectly neutralises that brassy, orange tinge blondes can get without drying out your hair. Amen.
AG HAIR 3 pack includes Keratin Repair Shampoo 296ml, Conditioner 178ml & Repair Serum 75ml $44.95.
You won't find common and potentially harmful ingredients like salt, paba or parabens in any of AG Hair's products. You will find shine-inducing keratin and restorative ingredients. You'll also find that the person you give it to will be smiling non-stop after their first dalliance with this.