Another day, another episode of James Corden's wildly popular Carpool Karaoke series. Or so we thought.
But that was before we found out that Gwen Stefani was heading to the guest seat.
The inimitable songstress was always sure to bring her A game to the front seat, but it's what she brought to the back that had our jaws dropping.
After making their way through renditions of No Doubt's "Don't Speak" and discussing the mother-of-three's Benjamin Button-like ageing process, the two took on the singer's feel good twee hit, "Escape".
Post continues after video… 
The California native and the London based comedian then moved onto the topic of emojis, something that Stefani says are right up her alley.
So naturally, Corden asks her to recreate some of her favourites.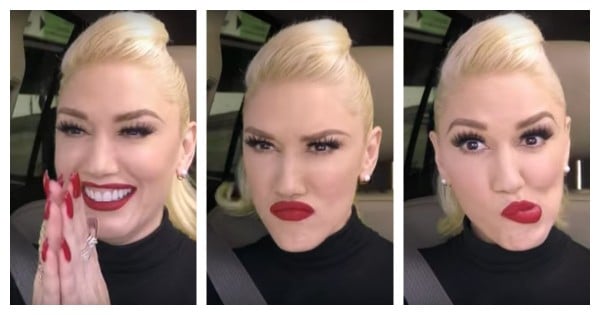 Clapping hands, angry face and blowing kisses emojis are all in a day's work for Gwen Stefani. Source: Carpool Karaoke / Youtube.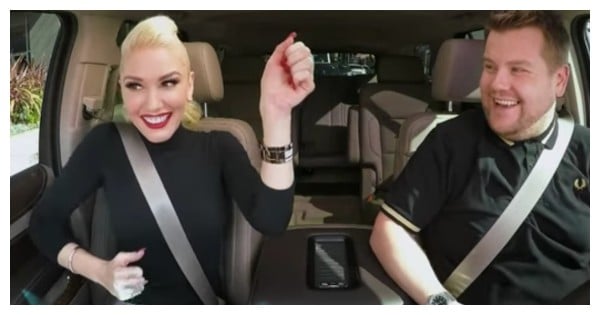 Hold me closer Red Dress Dancer. Source: Carpool Karaoke / Youtube.
During their rendition of the singer's latest hit, "I Used To Love You" trouble hits the pair when they actually hit the carpool lane, which requires four or more people in the car.
Given that Corden just really needs to get to work on time, he makes some calls and asks a friend who is nearby to help out.
Cue George Clooney and Julia Roberts hitching a ride.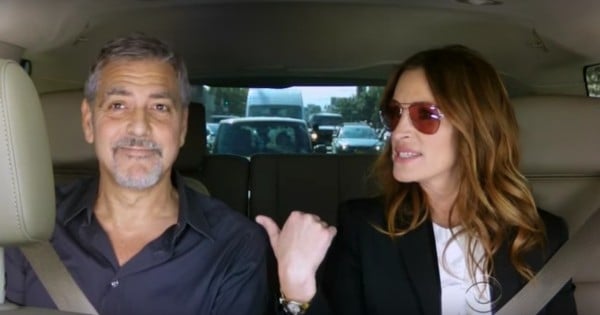 Mum and dad riding in the back. Source: The Late Show / Youtube.
From there, the car turns into a karaoke room on wheels, with the quartet busting out Stefani's late-night banger "Hollaback Girl" to much hilarity.
Being the award-winning actor that he is, Clooney probes Stefani for more information on who the mysterious hollaback girl is. Where is she from? What does she stand for? Are we all just one big metaphysical hollaback girl?
Finally, unhappy with the answer he's given, Clooney tells Stefani that "this shit is bananas", before breaking into the final jam of the session, Queen's "We Are The Champions".
We highly recommend watching it in full. It'll be the best 15 minutes of your day.