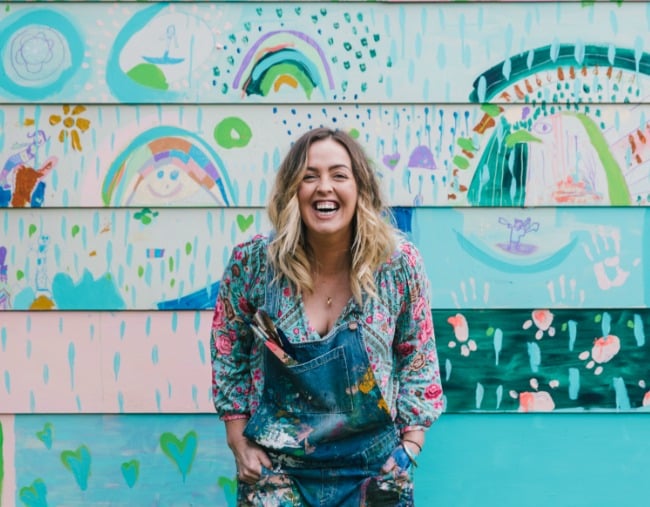 From a giant printer behind her bedroom door to a fully-fledged studio, Grotti Lotti artist Casey Manson tells Mamamia how she succeeded in a crowded, creative industry.
Spoiler: It requires more than just a stroke of luck.
Tell us about Grotti Lotti and how it came to be?
Grotti Lotti is all me, flat out, heart and soul. Basically I paint as much as I can (because I'm a little bit addicted), turn some of the works into art prints which then go on to sell through our online store, at markets and via a handful of growing independent stockists in Australia and New Zealand. I also sell rowdy originals via the Grotti Lotti Facebook page.
The idea birthed itself. I had no business plan – soz! I work each day, week, month as it comes.
Basically our children were getting out of the baby/toddler stage and I began to get a little bit of myself back. You know, when you start remember all the OTHER things you love and are quite good at! (Other than mothering beautiful small humans.)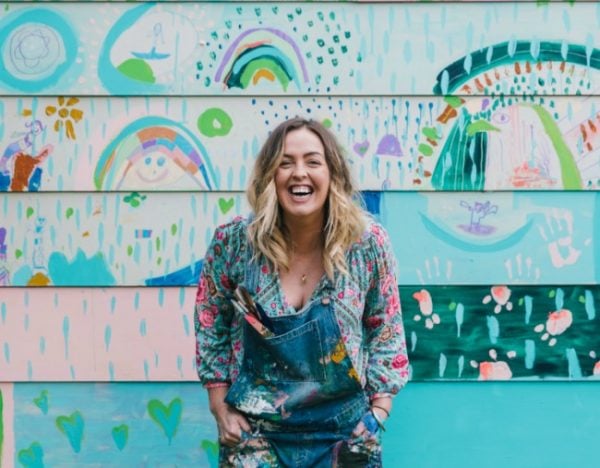 I joined a small local art class and started painting again, after years and years off (uni drop out). I began popping some of my work up on Instagram and people started asking to buy my stuff and asking for prints. CRAZY!
The first Grotti Lotti prints were made with a big old printer behind the bedroom door in our little, old country shack.
We now post anywhere up to 200 prints per week, and I'm no longer using the old printer behind my bedroom door.
What were you doing before you went into business for yourself?
Serving coffee and looking after the kids… no jokes.