Yesterday, a terrific thing happened in NSW. The Premier, Mike Baird, made a decision. In politics these days, this is very rare. But in this case, the abolition of greyhound racing a wonderful victory for the rights of animals, particularly the 68,000 dogs who have been killed in the past 12 years because they can't run fast enough. Not to mention the hundreds of thousands of defenseless piglets, possums, rabbits and other small animals who are routinely used as live bait during training.
Yes, jobs will be lost. Yes an industry will be decimated. But a far-reaching enquiry, prompted by the superb investigative report into greyhound racing by Four Corners journo Caro Meldrum Hanna has shown unequivically that this is an industry built on systemic animal cruelty and torture. And Mike Baird – along with his deputy who has a family member involved in the Greyhound racing industry – decided it was immoral to allow it to continue. I'm comfortable with that. Are you?
RSPCA says the banning of greyhound racing in NSW will go down as one of the biggest days for animal welfare in the state's history #nswpol

— Sarah Gerathy (@sarahgerathy) July 7, 2016
I spoke to a woman who used to work as a vet until recently. What she told me was horrifying. "In my first job as a vet I had to euthanise greyhounds regularly. It was heartbreaking. The owners would drop them off in groups of three or five and leave us to it. Contrary to what many people think, greyhounds are in general very gentle, sweet dogs. They would hold their legs up for me and often look for a little bit of affection while they waited for whatever I was going to do. I wish that I had never had to do this, and I would like to think now that I probably wouldn't. But as sad as this was, these dogs were some of the lucky ones – they were euthanased humanely. I don't believe that all greyhound trainers are cruel people or have cruel practices, but I suspect many of them do. And I think that it is an industry built on death. I can only welcome this ban, and to anyone who is in a position to welcome a canine friend to their home over the next year or so, consider a greyhound."
FOUR PAWS Australia celebrates the end of #greyhoundracing in NSW! Consider fostering and saving a life. pic.twitter.com/GMSdIU8VpM — FOUR PAWS Australia (@fourpawsAU) July 7, 2016
Reading that makes me feel sick. And here's where we can help. There are currently almost 7000 greyhounds in the racing industry in NSW and they are going to need homes. It's a myth that greyhounds are in any way vicious or unsuited to living domenstically. They actually make phenomenal pets.
They're gentle, affectionate, easily trained and they don't shed hair!
I spoke to Claire Garth, General Manager Sydney Dogs & Cats Home who currently have three greyhounds looking for a second chance at life [see video – I'm seriously tempted] and here's what she told me:
"As Sydney's only no-kill charity pound, we already re-home many ex-racing greyhounds each year and know first-hand that greyhounds can make wonderful pets. Affectionately known as 'lounge lizards" greyhounds make amazing family dogs. They're extremely affectionate and loyal creatures."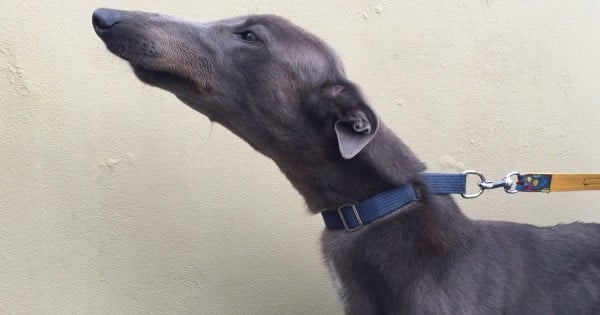 "Contrary to popular belief, greyhounds don't need excessive amounts of exercise, they are sprinters at heart, so they're happiest with a quick 20 min walk each day, and will then retire to the comfiest spot they can find."
"The rehoming and rehabilitation plan for these soon to be "out of work" racing greyhounds will be the next challenge, which Sydney Dogs and Cats Home together with other shelters around the State will have a key role in managing."
Did you know Australia is only one of eight countries IN THE WORLD where greyhound racing has not been banned? Most states in American banned it decades ago. So I have a question for the premiers of Queensland and Victoria who have insisted they will not follow NSW's lead: how can you sleep at night and what are you waiting for?
Meanwhile, let's try to do everything we can to spread the word about adopting a greyhound.......I'm considering it myself.