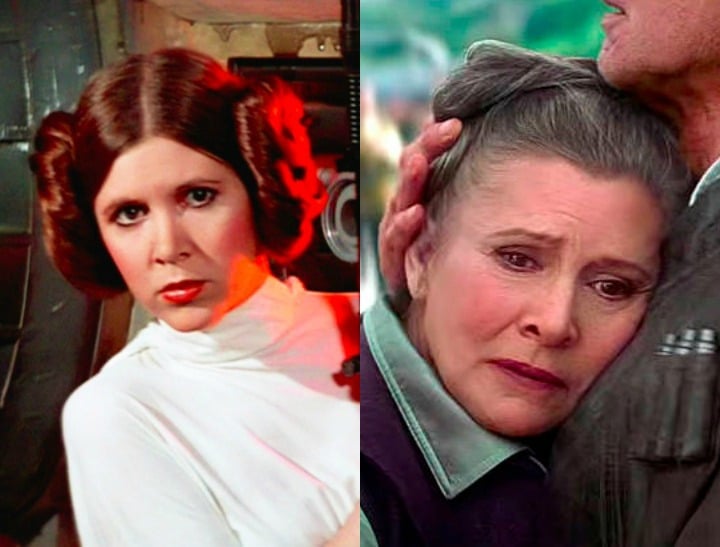 In a galaxy far, far away, a woman was allowed to age realistically on film and no-one died or contracted Ebola or vomited in their mouth and asked to see a photo of Gigi Hadid…
The most startling thing about the trailer for the next movie in the Star Wars series, The Force Awakens, is not the hordes of shiny, next-gen Stormtroopers, or high-tech light sabers or whizzing little jet fighter things. It's the brief glimpse we get of Princess Leia (played by Carrie Fisher). She has obviously aged as she leans into Han Solo's chest (who is played by Harrison Ford and has aged too. Fisher is now 59, Ford 73).
Rather than be replaced, like the Stormtroopers, with a shinier, newer version of herself, Princess Leia has been allowed to get older. She has greying hair, life lines and is beautifully, gloriously, attractively old.
It's a new concept for Hollywood who have a penchant for casting 35-year-old women as grandmothers and pairing 52-year-old actors with 23-year-old female co-stars.
When Star Wars first came out in 1978 Fisher became a sex symbol. She never liked it because there was always the pressure to "live up to something there."
Somehow, though, Princess Leia managed to combine the sex symbol tag and princess-needing-to-be-saved narrative with a shot of feminism. Yes, there was an element of that whole gold bikini and Jabba the Hut weird thing (art forecasting life if you consider a particular current presidential candidate), but Princess Leia also fought, she yelled, she demanded, she told men what to do. She had the future of a WHOLE GALAXY on her shoulders, just under her bagel hair rolls, and she was on the front (tiny) foot all through the movie.