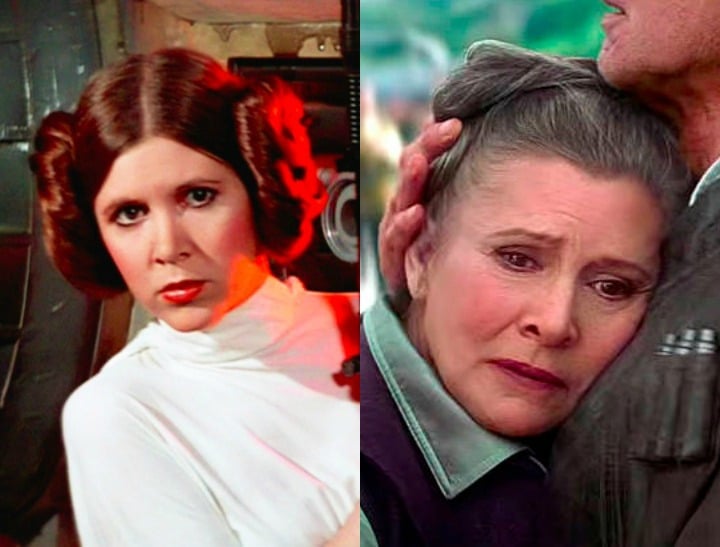 In a galaxy far, far away, a woman was allowed to age realistically on film and no-one died or contracted Ebola or vomited in their mouth and asked to see a photo of Gigi Hadid…
The most startling thing about the trailer for the next movie in the Star Wars series, The Force Awakens, is not the hordes of shiny, next-gen Stormtroopers, or high-tech light sabers or whizzing little jet fighter things. It's the brief glimpse we get of Princess Leia (played by Carrie Fisher). She has obviously aged as she leans into Han Solo's chest (who is played by Harrison Ford and has aged too. Fisher is now 59, Ford 73).
Rather than be replaced, like the Stormtroopers, with a shinier, newer version of herself, Princess Leia has been allowed to get older. She has greying hair, life lines and is beautifully, gloriously, attractively old.
It's a new concept for Hollywood who have a penchant for casting 35-year-old women as grandmothers and pairing 52-year-old actors with 23-year-old female co-stars.
When Star Wars first came out in 1978 Fisher became a sex symbol. She never liked it because there was always the pressure to "live up to something there."
Somehow, though, Princess Leia managed to combine the sex symbol tag and princess-needing-to-be-saved narrative with a shot of feminism. Yes, there was an element of that whole gold bikini and Jabba the Hut weird thing (art forecasting life if you consider a particular current presidential candidate), but Princess Leia also fought, she yelled, she demanded, she told men what to do. She had the future of a WHOLE GALAXY on her shoulders, just under her bagel hair rolls, and she was on the front (tiny) foot all through the movie.
I remember going to see Star Wars with my two older brothers.  I was used to watching boy stuff: Doctor Who, Jaws, Superman, The Incredible Hulk et bloody al and then I sat in that dark theatre, the air conditioning a little too cold on my shoulders, and this tiny woman came on and yelled at, or defied, all the men. She grabbed a gun of some description (they all look the same to me) and went down that corridor and shot Stormtroopers, she told Han Solo and Darth Vader where to go. I was scared of Darth Vader, I remember holding one of my brothers hands as he spoke, and Princess Leia didn't flinch when they took her away to the cells.
As well as fighting the obvious baddies, she dismissed the disguised ones like Han Solo who was central casting in-it-for-the-money selfish movie anti-hero. I had no idea why the lovely, sweet, brave, earnest Luke Skywalker was not getting a look in (well, I was eight and it turns out he was both her brother and way too nice).
In her words:
Han Solo: Not a bad bit of rescuing, huh? You know, sometimes I amaze even myself.
Princess Leia: That doesn't sound too hard.
It took a while for me to realise that Princess Leia was being saved in that movie, and that might beg the question of how much of a feminist icon she could be. Well, she let an eight-year-old girl peek over that high wall of defined roles for women (victims) and men (saviours). She let me see a woman on screen who fought back (sometimes in questionable outfits, but nevertheless).
That's what I saw in the theatre that day with my brothers. Princess Leia. I still can't tell you what the spaceships are called in Star Wars. I still don't really care about all the odd aliens in those strange planetary bars, but as a kid I could tell you that Princess Leia was a little serious, she shot things, she stood up to the Imperial Forces (that's a lot of serious forces), and she never apologised.
Now Princess Leia is on screen as a beautiful, older woman in a world where we want them to disappear into a galaxy far, far away.
And when I see the movie I trust she's still not apologising, still calling the shots and still inspiring eight year old girls to expect more.
Watch the trailer for the new Star Wars movie here:
Like this? Why not try these...
'She's let herself go'. The comment that brought me up cold.'
Empowering truths about getting older, as told by our favourite celebrities.
'My 50-year-old body faced the crowd wearing only a sequined bikini.'