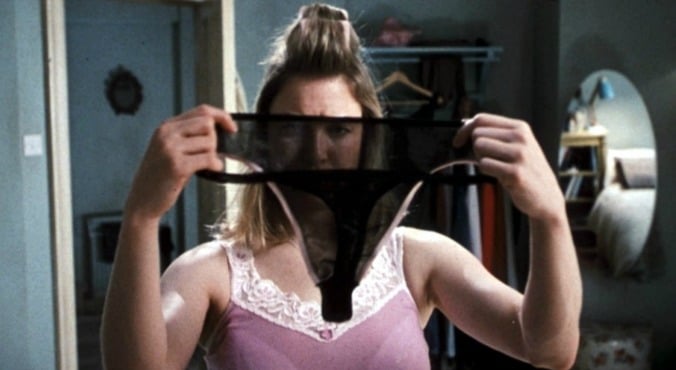 Image via Universal Pictures
It seems fanny packs and birkenstocks aren't the only once-daggy trends making a major comback. A growing number of millennials are tossing their g-strings aside in favour of Bridget Jones-style 'granny undies'.
Yes, the days of constant wedgies are numbered. Hurrah!
The New York Times reports sales of g-strings have decreased seven per cent over the last year, while sales of briefs, boy shorts and high-waisted undies have grown a collective 17 per cent.
"Within millennial and Generation Y consumer groups, it's considered cool to be wearing full-bottom underwear," Bernadette Kissane, an apparel analyst at the market intelligence firm Euromonitor told the Times.
"Thongs have had their moment."
RELATED: Could shape-wear and compression garments be harming your health?
I'll be honest — I've never really understood the attraction of g-strings. Yes, they mean you can wear clothes without a visible panty line, but they're also incredibly uncomfortable, get up your bum and are frankly overpriced for what is essentially a lacy piece of elastic.
Granny undies, on the other hand? Beloved by anyone with a bum. Not only are they comfy, prevent muffin tops, stop wedgies, stop flashing on windy days and last for years, they're a sworn-by favourite with mums who say they're particularly handy at covering caesarean scars.(Post continues after gallery.)
And they can be even sexier than fancy underwear. "They make me feel like Dita Von Teese," said one Mamamia staffer.
But given g-strings have always been uncomfy, and the benefits of bigger knickers are widely accepted , why are we only airing our "dirty" underwear secret now?
RELATED: This lingerie campaign is getting a lot of love. And we think you'll agree with why
According to Julia Baylis, the 22-year-old co-founder of boutique lingerie label Me and You, it's about reclaiming our underwear for ourselves rather than impressing someone else.