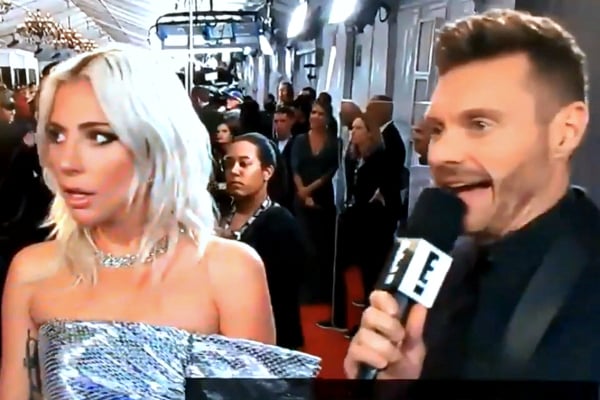 Want more red carpet content? See the best and most outrageous looks from the 2019 Grammy Awards right over here.
It's a common technique when interviewing people that the interviewer asks a question and then lets the interviewee respond.
Or so you'd think.
Unfortunately, controversial celebrity journalist Ryan Seacrest didn't follow this protocol during his 2019 Grammy's red carpet interview with Lady Gaga and her song-writing team, and she let him know about it.
Understandably, things got awkward.
The interview began amicably enough, with Seacrest asking Gaga and her team about their writing experience for the song Shallow.
As her co-writer makes a joke about drinking a "bottle of scotch" as a part of their creative process, Gaga continues the riff and says she prefers whiskey.
However, Seacrest doesn't hear this, cuts her off and moves onto the next question.
Watch the moment Ryan Seacrest interjects Lady Gaga during her own interview:
Although Lady Gaga doesn't make a point of it then, tensions can be seen when Seacrest brings up her upcoming Oscars performance with her A Star is Born co-star, Bradley Cooper.
"Next it is the Oscars, and a live performance with Bradley Cooper," he says, to which Gaga replies with a short yes, before he goes back and forth with his microphone, prompting her to expand on her answer but preventing her from doing so.
Gaga then ends the interview on a pretty finite note.
"You're like, 'Answer my question, but I'm not asking one,'" she joked, mirroring his microphone manoeuvre.
Seacrest then declares they're "out of time," but before they roll to the ad break, he jokingly adds, "here's me not asking a question, we'll be right back".
Too soon? Maybe, but luckily Lady Gaga went along with his gag and dramatically feigned looking annoyed and offended.
Watch Lady Gaga's hilarious interview with @RyanSeacrest @enews at the #GRAMMYs res carpet where talks about her #BAFTA, #GRAMMYs and #Oscars . Wait for the end???? pic.twitter.com/d6Uf41S87o

— Lady Gaga Alerts⭐ (@GagasAlerts) February 11, 2019