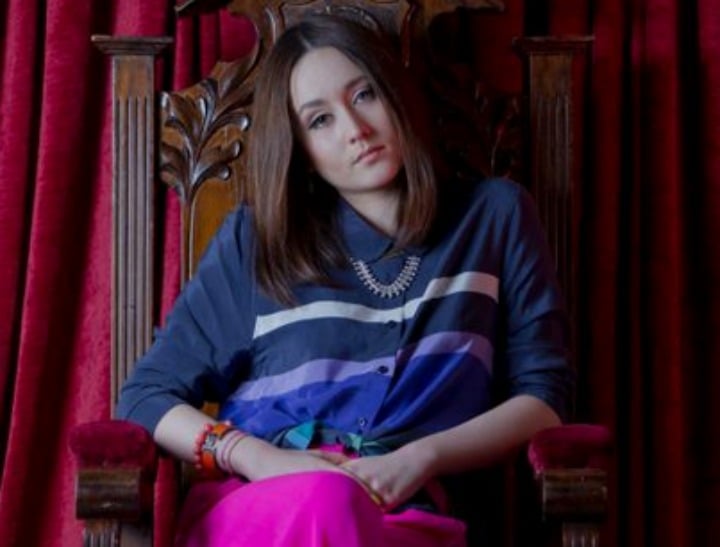 We've rounded up all the latest stories from Australia and around the world – so you don't have to go searching.

1. Gossip columnist resigns over offensive tweet about a dead family.
A socialite and gossip columnist for a New Zealand newspaper has resigned following backlash from her tweet that the tragic death of a family was "natural selection".
Police believe the family, Cindy George and her three children, Pio, Teuruaa and Telyzshaun, died from the fumes of a car left running in a garage to keep the battery "ticking over", Stuff.co.nz reports.
On Saturday, New Zealand Herald columnist Pebbles Hooper – the daughter of fashion designers Denise L'Estrange-Corbet and Francis Hooper – wrote: "I'll get major slack for this, but leaving a car running inside a closed garage while you're kids are in the house is natural selection."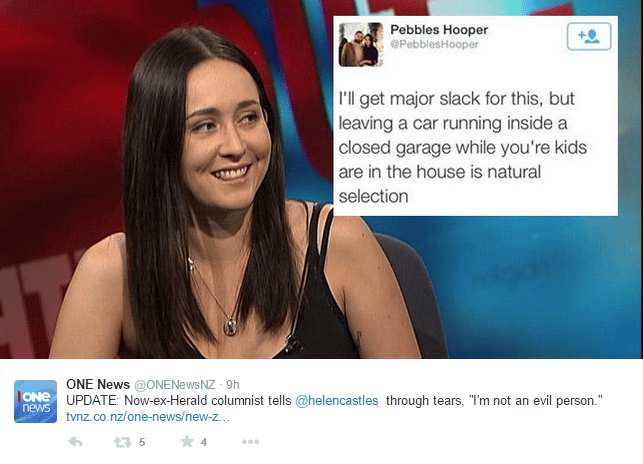 But she backtracked the following day after outraged social media users hit back at her.
"I deeply regret any distress caused to the family. I apologise for my wording and take responsibility for upsetting those involved, and I was careless in my actions," she wrote.
"The issue I regrettably tried to raise was about parental negligence and the precautions needed to ensure the safety of those who are unable to care for themselves."
She also deleted her Twitter profile soon after and resigned from the newspaper.

2. Sydney man expected to die within days after being diagnosed with Mad Cow disease.
Former Sydney Swans chief financial officer Frank Burton likely has only days to live after contracting a form of Mad Cow disease.
It is not known how the 63-year-old – who is in isolation at Royal Prince Albert Hospital – became infected with Creutzfeldt–Jakob disease (CJD), a rare disease that attacks the central nervous system, the Daily Telegraph reports.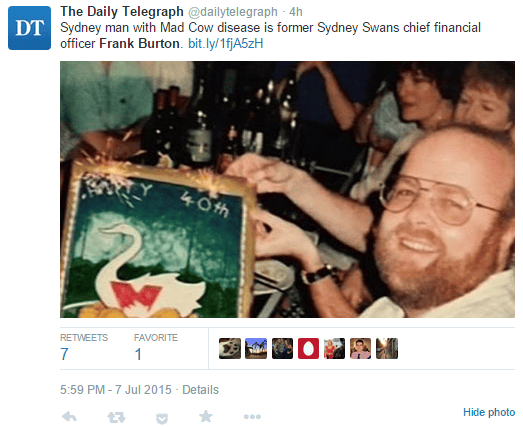 Mr Burton was diagnosed with the sporadic variety of the disease, which can lie dormant in the body for decades, and cannot eat, speak or move his limbs.
The NSW Department of Health says most cases of CJD are caused by mutuations of the patient's brain, not from eating contaminated meat.

3. International comparisons put Abbott government to shame on gender balance.
The Abbott government ministry is one of the worst for gender balance in the developed world, a new report reveals.
The Organisation for Economic Co-Operation and Development report says the gender gap in Australian ministerial positions has gotten worse since 2012, The Age reports.
Australia has fewer women in its highest ranks of government than every OECD country, with the exceptions of Slovakia, Hungary, Greece, Korea and Turkey, according to the report.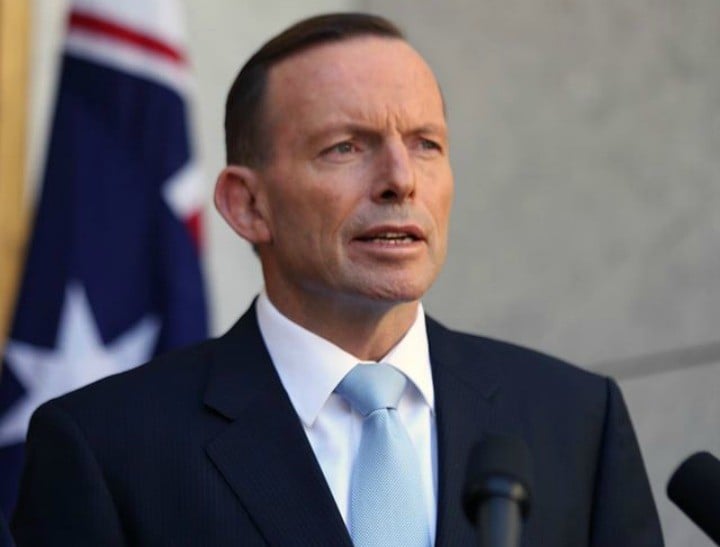 "The gender imbalance found in senior levels of central government considerably limits the role of women in the decision-making process," the 'Government at a Glance 2015' report warns.
There are only eight women in the Abbott government's 43-member cabinet, outer ministry and parliamentary secretary group.
But Australia has one of the best gender-balanced senates in the developed world, with 31 of the 76 members being women.

4. Melbourne doctor held captive and blackmailed during horror internet date.
A Melbourne doctor was held captive for 11 hours, forced to hand over his bank information and photographed with drugs to ensure his silence on a horror internet date.
After meeting up with a woman he'd met on an internet dating site and going to her house in the early hours of October 1 last year, the doctor was confronted by three armed men, the Geelong Advertiser reports.
The offenders stole more than $11,000 from the man, who they forced to write down the PINS for five of his ATM cards.
"The victim was given an ice pipe and told to light it and bags (of the drug) to hold, while they took photos on a mobile phone for insurance purposes and said they would be sent to the hospital where he worked if he reported the matter to police," the court heard.
Jamie McCumber, 32, Nejmiye Millar, 32, Nicholas Harrison, 19, and Jeremy Harrison, 22, pleaded guilty to false imprisonment, armed robbery and blackmail and will be sentenced at a later date.

5. New cervical cancer screening test on the cards.
A new National Cervical Screening Program may spell the end of the pap smear.
Pap smears may be replaced with a test for human papillomavirus​ (HPV) needed only once every five years, under the National Cervical Screening Program announced in the Federal government's proposed budget.
HPV causes 99 percent of all cervical cancers, but only 58 percent of eligible women aged 20-69 had pap smears at last count in 2012-2013.
Experts think the new test, along with HPV vaccinations, could reduce cervical cancer by 15 percent, Daily Mail reports.
Worldwide, cervical cancer is the fourth most common cancer for women, and killed 143 women in Australia in 2012.

6. Bill Shorten gives rousing speech in Sydney pub.
Labor leader Bill Shorten has come out of his shell at a Sydney bar, delivering an inspiring speech to his fellow drinkers.
"One day I hope that you belong in a country where marriage equality is legitimate, where Aboriginal and Torres Straight Islander Australians are on the national birth certificate of the constitution, where people can organise to have a strong minimum wage and they will not be subject to a Royal Commission, where we will have a Medicare system that is defined by your Medicare card, not your credit card, where you can go to university and not have to pay a hundred thousand dollars," he said to the crowd who started chanting his name.
"We will have a country where women are treated equally, and we will have a country where we are known for our commitment to multiculturalism [and] immigration, and where no matter who you are and who your parents are, this is a country of a fair go, and you can get ahead based upon how hard you work, and how much you care about your fellow Australians."
"You're a lovely bunch of people. However you vote in the future, just maintain your commitment to politics."
The footage was filmed at the Convent Garden Pub in Sydney and obtained by the ABC.

7. Johnny Depp visits Brisbane children's hospital.
Kids at the Lady Cilento hospital in Brisbane were no doubt surprised when Captain Jack Sparrow walked into their ward.
Johnny Depp took a day off filming the latest Pirates of the Caribbean installment to visit the children's hospital.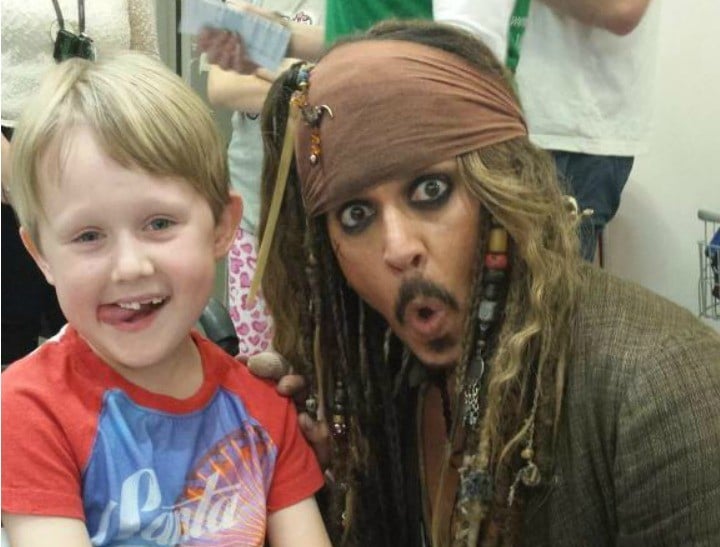 ABC News reports Depp requested the staff keep the visit a secret, but it wasn't long before images emerged on social media.
The mother of seven-year-old Max Bennett — who suffers rare neurological condition — said Depp's gesture was beautiful.
"He was going from room to room seeing all the kids who couldn't get out of bed," Ms Bennett said.
"He was taking his time to make sure he spoke to each and every one of them.
"It was really beautiful. Everyone kept on trying to move him on, but he kept on coming back."

8. Children as young as 7 are dealing drugs, police find.
New South Wales police have found children are involved in the selling of drugs in the regional town of Wagga Wagga.
More than 40 people were arrested during a series of raids in the town — some of whom have left children now in the care of the state.
In one case, police found a seven-year-old was assisting in the drug trade.
"That young person was receiving people coming into the house looking to procure drugs, conveying information to a person in another part of the home and then coming back and basically saying 'take a seat, someone will be with you shortly'," Superintendant Bob Noble told ABC News.
"I'm not suggesting, and nor would I like to believe, that this young person has any idea of what they're involved in, but they're being brought up clearly in an unsafe environment."

Watch today's news in 90 seconds:
Do you have a news tip? Email us at [email protected].
[post_snippet id=324408]