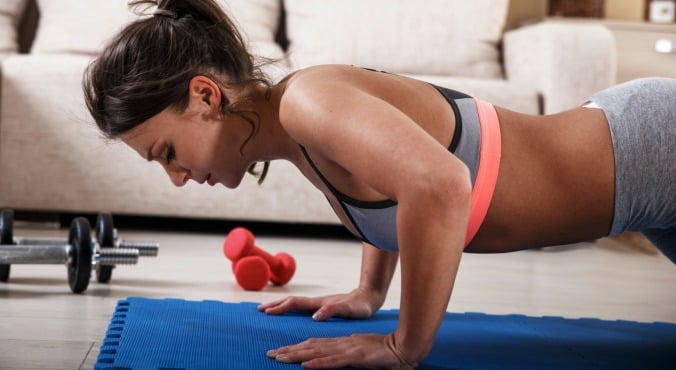 Image via iStock.
We've all been there. You get home after a long day at work, and literally the last thing you feel like doing is heading back out to hit the gym, or worse, braving the dark, cold outdoors.
Enter: workouts. Ones that don't involve a DVD or any extra equipment. Personal trainer and founder of Bodyism, James Duigan (who trains the likes of Jessica Gomes and Lara Stone) has created the perfect lounge room workout anyone can do.
RELATED: 7 workouts for people who suck at running.
"This circuit is an intelligent and brilliantly effective way to work your body. It improves posture, burns fat and tightens your glorious butt," James says.
The warm up.
"Warming up with a yoga sun salutation creates a wonderful mindfulness and grace in everything you do for the rest of your day," says James.
 The workout
1. Alternating Disco Lunges
1. "Stand with your feet hip-distance apart and at your side."
2. "Engaging your core, take a step forward with your left leg into a lunge position with both knees bent at a 90 degree angle and raise your arms in a 'Y shape – push through the left heel and return to a standing position."