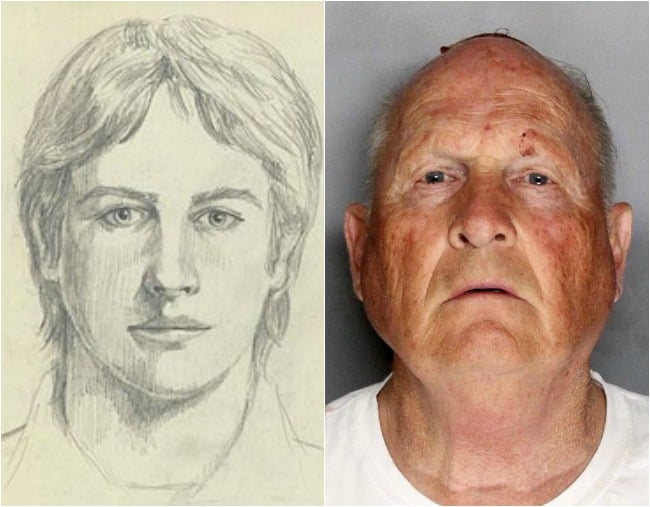 After a 42-year investigation that included leads stretching as far away as Australia, US authorities have announced they have captured the rapist and serial killer dubbed the Golden State Killer and East Area Rapist.
Joseph James DeAngelo Jr, a 72-year-old former police officer, was arrested in a dawn raid in California's capital, Sacramento, on Wednesday.
DeAngelo Jr's alleged reign of terror began in 1976 and appears to have ended in 1986.
Horrifying violent crimes took place across California from Oakland in the north to Orange County in the south.
Joseph James DeAngelo Jr is alleged to have committed heinous crimes. Post continues.
He allegedly broke into homes, threatened his victims with guns or knives and committed 51 rapes of women and 12 murders.
The serial killer and rapist would wear a mask and during attacks where he confronted a husband and wife he sometimes tied the man up, put dishes on his back and raped the wife in another room.
If the dishes fell he would know the husband was attempting to escape.
The serial killer would also allegedly stay at the crime scene after committing the rape or murder, go to the victim's kitchen and make himself a sandwich or other snack before leaving.
Authorities said they were unable to identify him until a major breakthrough just six days ago using DNA.
Before that DeAngelo Jr's name never came up in their four-decade-long investigation.
"We all knew as part of this team that we were looking for a needle in a haystack," Sacramento County District Attorney Anne Marie Schubert told reporters.
"But we also all knew the needle was there."
Authorities were tight-lipped about giving away details, but they said they began a surveillance operation on DeAngelo Jr's house in recent days, noted his movements and habits and collected a "discarded DNA sample".
After they allegedly matched his DNA, a team of authorities set a trap and on Wednesday morning when he came out of his Sacramento home they arrested him.
There was renewed interest in the case when true-crime journalist Michelle McNamara's book I'll Be Gone in the Dark was released in February and topped the New York Times bestseller list.