It's Golden Globes time, people.
There's about to be a very fancy ceremony, where some very fancy people are awarded some very fancy lil' golden statues.
Not us… obviously.
But we do get something out of this whole awards season hoola – some bloody great TV shows.
To help you get in the Golden Globes spirit, we've rounded up some of the best shows that have been nominated for a gong this year.
The best bit? You can binge your way through them before Monday's red carpet even begins.
The Sinner
The Sinner has been named the best show of 2017 by some very important TV critics (*cough* me *cough*).
The psychological thriller is a "why-dunnit" – a twist on the ole' who-dunnit narrative.
The show follows the story of Cora Tannetti (Jessica Biel), a young mum who murders a stranger, seemingly on impulse, while her family is enjoying a day at the beach.
From the outset of the series we know that Cora committed this unspeakable act and we spend the next eight episodes trying to figure out why.
The Sinner is the kind of TV show that grips you in the first episode and doesn't let you go until the final credits are rolling; the sort of TV experience you'll immediately want to discuss with your friends so you can dissect every little detail.
And it's the kind of story that will follow you around for days – if not weeks – after you've watched it. Cora and her story will stay on your mind as you try to process the brutality of one woman's experience and wonder whether anyone can ever truly move on from their past.
All eight episodes of The Sinner are available to stream on Netflix now.
LISTEN: All the TV shows you should be watching this summer. Post continues after audio…

The Handmaid's Tale
The Handmaid's Tale was probably the most important and topical TV show of 2017.
An adaptation of Margaret Atwood's book of the same name, the series took us into a dystopian future where women's wombs are currency.
The series follows the story of  'Offred', a 'Handmaid' living in the Republic of Gilead where women have had their rights and power totally stripped and are now reduced to reproductive vessels.
It's a dark, harrowing, and scarily familiar story. The series made us question of own lives and our own sense of freedom and how quickly these things could be taken away from us.
To add to the general spookiness, Atwood revealed that everything that happened in the book – and the series – has actually happened at some point in history.
You can watch the entire series of The Handmaid's Tale on SBS On Demand.
The Crown
The Crown is an addictive historical drama that charts the professional and personal life of Queen Elizabeth. It's engaging, fascinating and serves to humanise the real people behind the crown.
It's also a little bit juicy.
It gives us a glimpse into a side of the royal family we rarely get to see – and pulls back the veil on the numerous scandals they've weathered throughout the years.
Each season the cast of The Crown are replaced as the characters get older.
Anyone who has already watched The Crown has immediately become obsessed with the series and spent a quite a lot of time googling the history of the royal family.
Both season one and season two of The Crown are on Netflix now.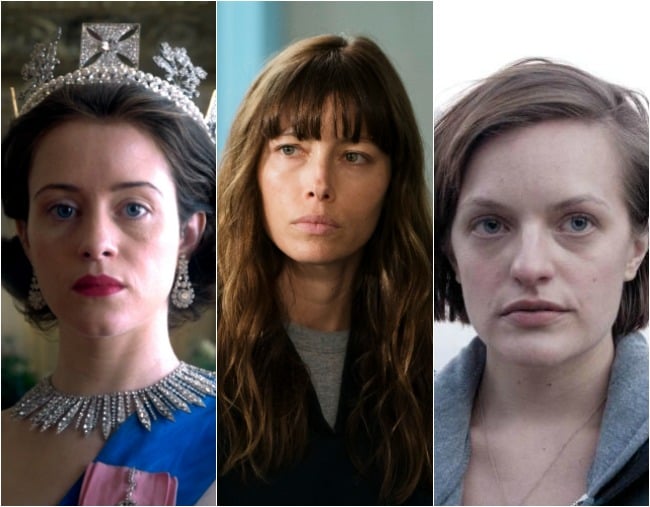 Master of None
Master of None is the kind of TV show that's so brilliant in its uniqueness and humour, you'll feel like a better person just for having watched it.
The series, created by comedian Aziz Ansari, follows the story of Dev Shah, a 30 year old actor, who like most millennials is struggling to live up to his own expectations of what his life should look like.
He doesn't exactly know what he wants out of life, but he knows it's more than what he currently has.
More than that, Master of None provides really clever social commentary on the kind of weird things our generation does - like looking for love online and spending most of our outings looking down at our phones.
The first two seasons of Master of None are available to stream on Netflix.
Big Little Lies
Big Little Lies was one of the breakout hits of 2017.
Based on Australian author Liane Moriarty's bestselling book of the same name, the Big Little Lies mini-series centres around a circle of suburban mums who are caught up in a murder investigation.
The twist? Not only do we not initially know who did it but we don't even know who the victim was.
While Big Little Lies initially draws you in with its stunning setting and its promise of a "mummy drama" - it end ups offering you a whole lot more.
The series is one of the best psychological thrillers this year. It takes you on a chilling psychological journey through the lives of the three central characters and keeps you guessing right up until its final moments.
It's the kind of show that's breathtaking in its delivery and non-stop twists.
You can watch season one of Big Little Lies on Foxtel Now.
LISTEN: Pitch Perfect 3 and everything else you should be watching this week. Post continues after audio...

Top of the Lake: China Girl
This is the second season of the Australian TV series starring Elisabeth Moss.
In this season, Moss's character, detective Robin Griffin, has returned to her old job in Sydney. It's five years since the end of the first season and a lot has changed in her life.
Back in Sydney, Griffin starts to reconnect with the daughter she gave up for adoption years ago, through her troubled and turbulent adoptive parents.
She also delves deep into a murder case that lifts the lid on Sydney's seedy underworld of prostitution and illegal immigration.
Both seasons of Top of the Lake are available to stream on Foxtel Now.
SMILF
SMILF follows single mum Bridgette Bird (Frankie Shaw), a working-class 20-something from Boston as she juggles raising her toddler, Larry, and stuffing up her life like normal millennials.
There's a lot of sex, and a lot of swearing, and a lot of the reality of what life is really like when you have a child when you're still pretty much a child yourself.
The series has been an unexpected hit with critics and audiences alike, as it gives us a glimpse into a life, and a story, we don't normally see on TV.
The entire first season of SMILF is available to stream on Stan.
To read more from Keryn Donnelly, follow her on Facebook.