When you find a beauty product that smells like Baileys Irish Cream Liqueur, you kiss it gently on its lid and whisper sweet nothings to its shiny packaging all day long.
That's basically how my first week with GLAMGLOW's ThirstyMud Hydrating Treatment has played out, anyway.
For those who don't spend every spare minute watching beauty influencers on YouTube (I salute and envy you) GLAMGLOW is a skincare brand that has a cult-like following.
Founded by couple Glenn and Shannon Dellimore in 2010, the special goos and potions were originally formulated for Hollywood's elite; a backstage vice to non-muggles who are expected to have glowing, perfect skin at all times.
Pretty quickly the word about celebrities' skincare secret got out, and now GLAMGLOW is an expensive must-have for anyone who would rather spend their hard-earned cashola on a pore-refining treatment than a new handbag.
The brand's products are pricey… but, you know, for a reason.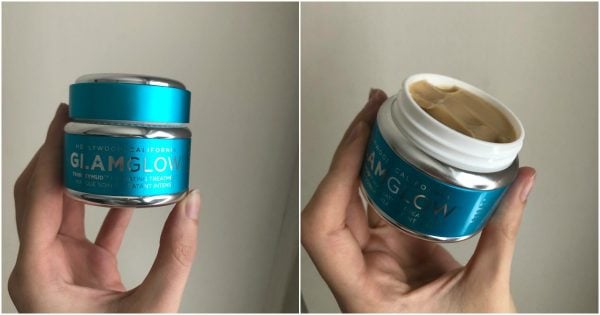 When I got my hot little hands on the ThirstyMud treatment, I was practically perspiring with excitement. Scooping out a GLAMGLOW concoction as a pre-makeup prep step is a ritual for many of the women I follow, so I was keen to see what all of the fuss is about.
This mask, which not only smells like whisky and cream but looks like it, promises to moisturise, replenish and soothe the skin for a radiant complexion. The deep and "extreme" hydration gives the skin's appearance and instant boost, but the company also pledges that regular use (two to three times a week) will have long-lasting benefits.