There are certain realities about pregnancy, birth, and those first few months of caring for a newborn that only mums can truly know.
But even with that shared sense of understanding, no two experiences of new motherhood are the same.
Of course, these differences are compounded when you consider the broad spectrum of practises, customs and beliefs surrounding birth all over the world.
There's also the different levels of access new mums have to healthcare, and to vital nutrients.
But But Elevit believe a baby's healthy development should not be left to chance and that every single parent has the ability to aid the journey of another, whether that's with the right words to say, the perfect gem of knowledge, or the empathy to reach out and help. That's why Elevit created Every Beginning - a global program supporting the first 1000 days of a baby's life. Every Beginning aims to empower parents to turn their empathy into action, channeling their universal experiences, soothing anxieties and learning from one another so that every baby has the best start to life.
Mamamia spoke to six women about their experiences giving birth in seven different countries, where expectations around pregnancy, birth and postpartum care were distinctly unique.
From Indonesia to the Netherlands, home births to scheduled c-sections, these journeys show the broad spectrum of realities for new mothers. But they also point to the adaptability and resilience of these women, who worked within their own context to provide the very best beginning for their baby.

***
Kelley is an American living in Laos and travelled to Bangkok for her first baby and Ubud in Indonesia for her second birth.
'I live in Laos so like many other expat mothers, I decided to go to Thailand to give birth,' Kelley explains. 'Bangkok private hospitals have a whole industry set up for
those who are able to come from neighbouring countries with weaker health systems to deliver their babies.' Kelley decided to find a doula who specialised in foreigners birthing in Bangkok, as well as a 'baby and mama' group that met in the local café. 'In a foreign country, having a group like this was so brilliant both during the pregnancy and right after the birth. When I got home to Laos I went on to start a group there straight away!'
For her second baby two years later, Kelley and her husband chose Bumi Sehat, an award-winning birth clinic run by midwives in Ubud, Bali. 'We found a small house to rent near the clinic and off we went! I chose Bali in part because I knew I wanted to have a supported vaginal birth attended by midwives and that's what I got.'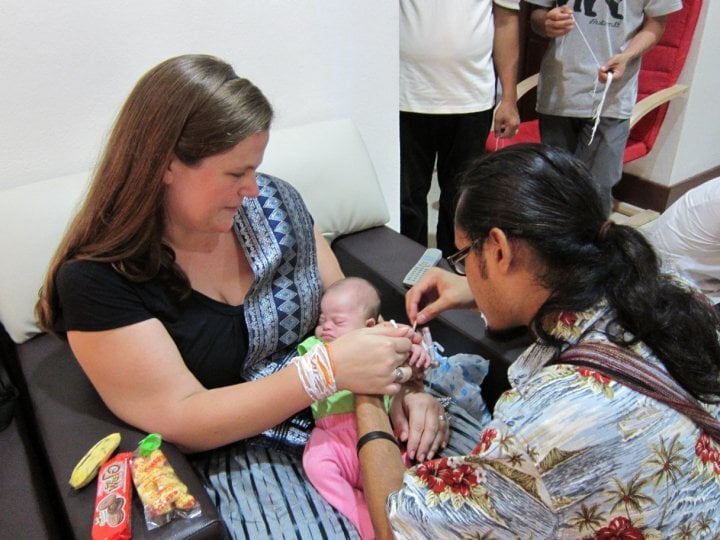 'As an American in Laos, people were particularly interested in our postpartum culture. But in America, we don't really have one! They were shocked to hear that new mothers are routinely left home alone with a newborn after just a few days and may be going to the grocery store on their own even a week later.'
Simone is an Australian who moved to LA with her husband and two dogs for a planned two-year work (and life) adventure. They returned home eight years and two babies later.
Simone went into labour 10 days early with her first child, after eating 'The Salad' from Caioti Pizza Café in Studio City (which, according to local folklore, has a dressing that's rumoured to start contractions). Her experience of America supports what Kelley says about the country's postpartum culture (or lack thereof).
'In America, they allow you one or two nights in hospital but that's it. You're out,' Simone says. Her friends back home in Australia were having babies at the same time and her Facebook timeline was filled with 'first bath' photos at the hospital. 'There was no one to teach me how to bath the baby. I was just lucky I had two nephews and was hands on with them. I didn't ask for help, but it wasn't offered. I saw all my friends with their photos of the first bath and that just didn't happen.'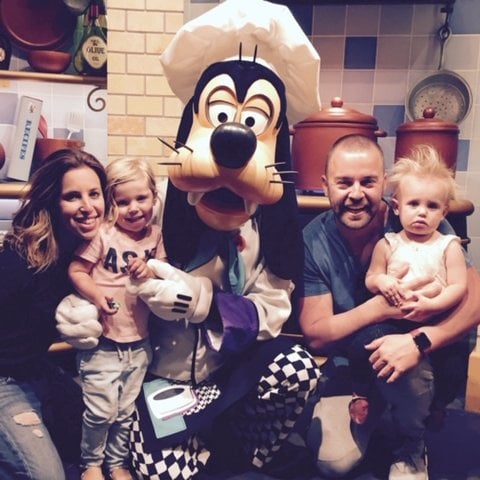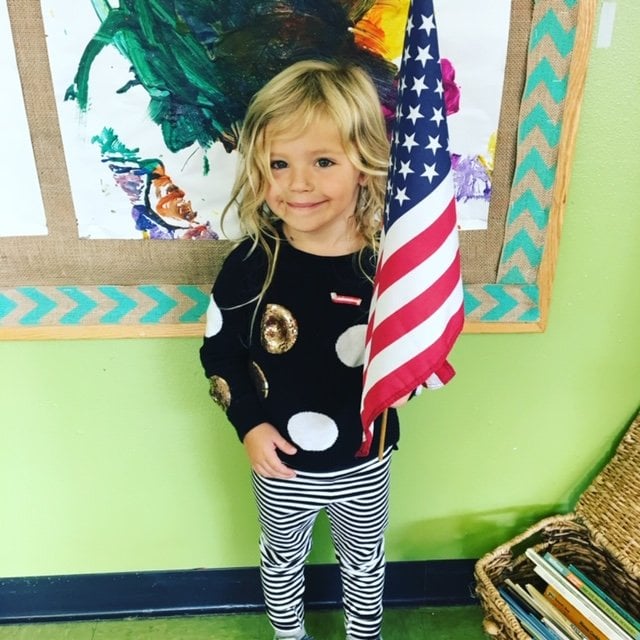 Amber Amber had a similar experience in the UK. On the morning she went in for her scheduled c-section, she found out that the usual discharge time after a vaginal delivery was six hours and after a caesarean was 24 hours.
She arrived at the hospital at 7am and sat in a waiting area until she was called for her paperwork at 3pm (where she found out her obstetrician was actually on leave). Luckily everything went smoothly so she sent her husband home to their toddler. 'I was wheeled into a multi-bed ward with five other mums and babies. I was still recovering from the epidural and couldn't sit up properly.
My baby was in her crib just out of my reach. I rang my bell a few times and tried to get the attention of the nurses as they raced by, but no one came.
So, I tried to shuffle down the bed until I could reach the corner of her crib and pulled her toward me. The nurses were stretched and there was no time for niceties. It was the bare minimum in interaction.'
In the morning, Amber was advised that if she wanted breakfast, she should make her way to the breakfast room and collect some supplies. She left hospital 22 hours post-op.
Aviva had her first three children in Melbourne, Australia and was pregnant with her fourth in Hong Kong where she moved with her family for her husband's work. 'I was quite anxious to give birth overseas, but all the expats kept telling me the Hong Kong system was amazing and that I would be treated like a queen. But when I was going through it, I was like...this is like Australia! The expats were from the US and other places, so the Hong Kong experience was so completely different to what they were used to.'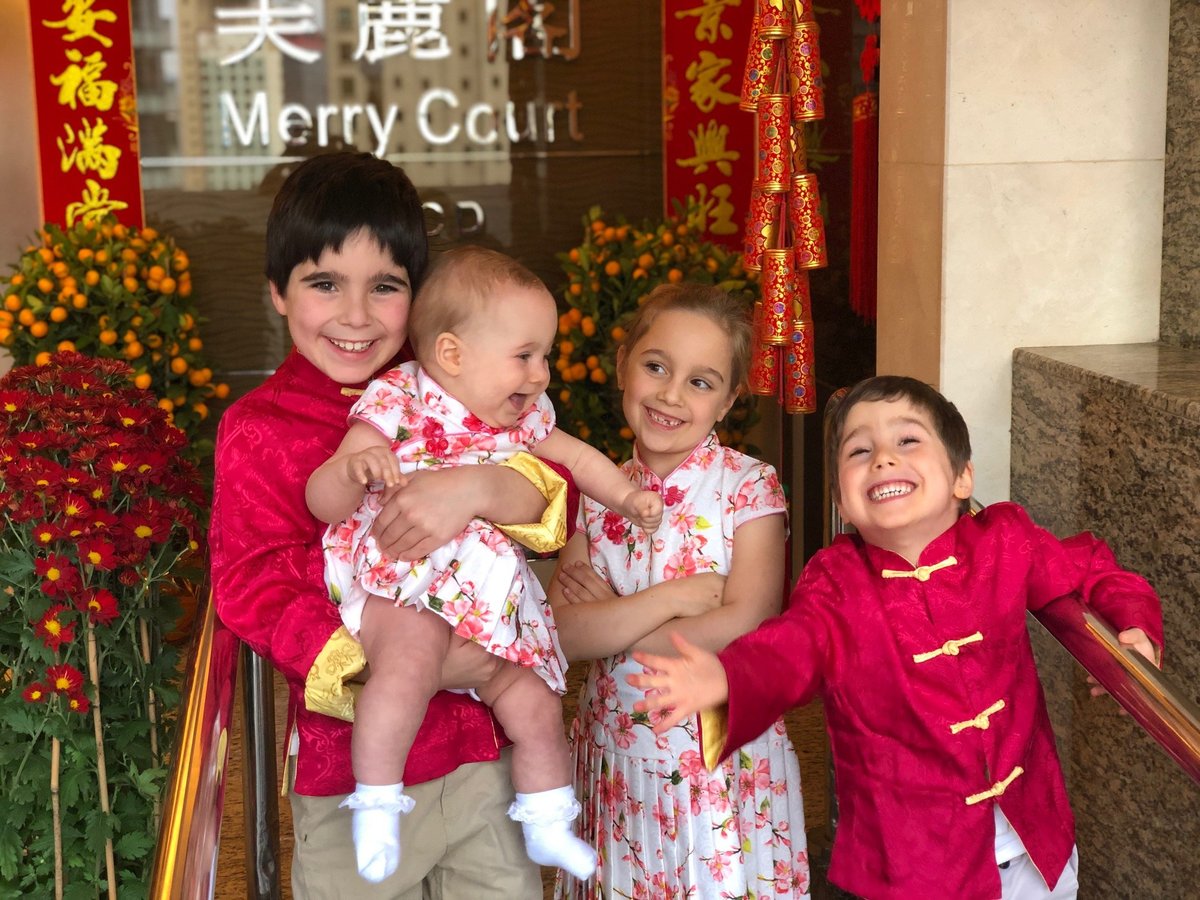 After twice giving birth in Melbourne at hospitals, Mihal's third child Freya was born at home in the Netherlands. 'I wanted to try a home birth even though I never would have considered one back in Australia. I did a lot of research to reassure myself I wasn't taking an unnecessary risk. What reassured me the most was that being a subsequent child the chances of something going wrong that would require a hospital transfer were statistically far lower. The level of communication and integration between the midwives and hospitals also gave me a lot of reassurance. If any complications arise, a midwife's call to the hospital is given top priority, and the small distances in the Netherlands meant that we were a five-minute ambulance trip from our local hospital (where the King's children had been born, so it wasn't too shabby!).'
Mihal was more relaxed knowing she could labour at home. Her only concern was what would happen if her older girls were at home when labour really kicked in and how they would cope seeing her in pain. 'Luckily it all happened overnight. At 5am Freya was born and at 6am the girls woke up and came downstairs to meet their little sister.'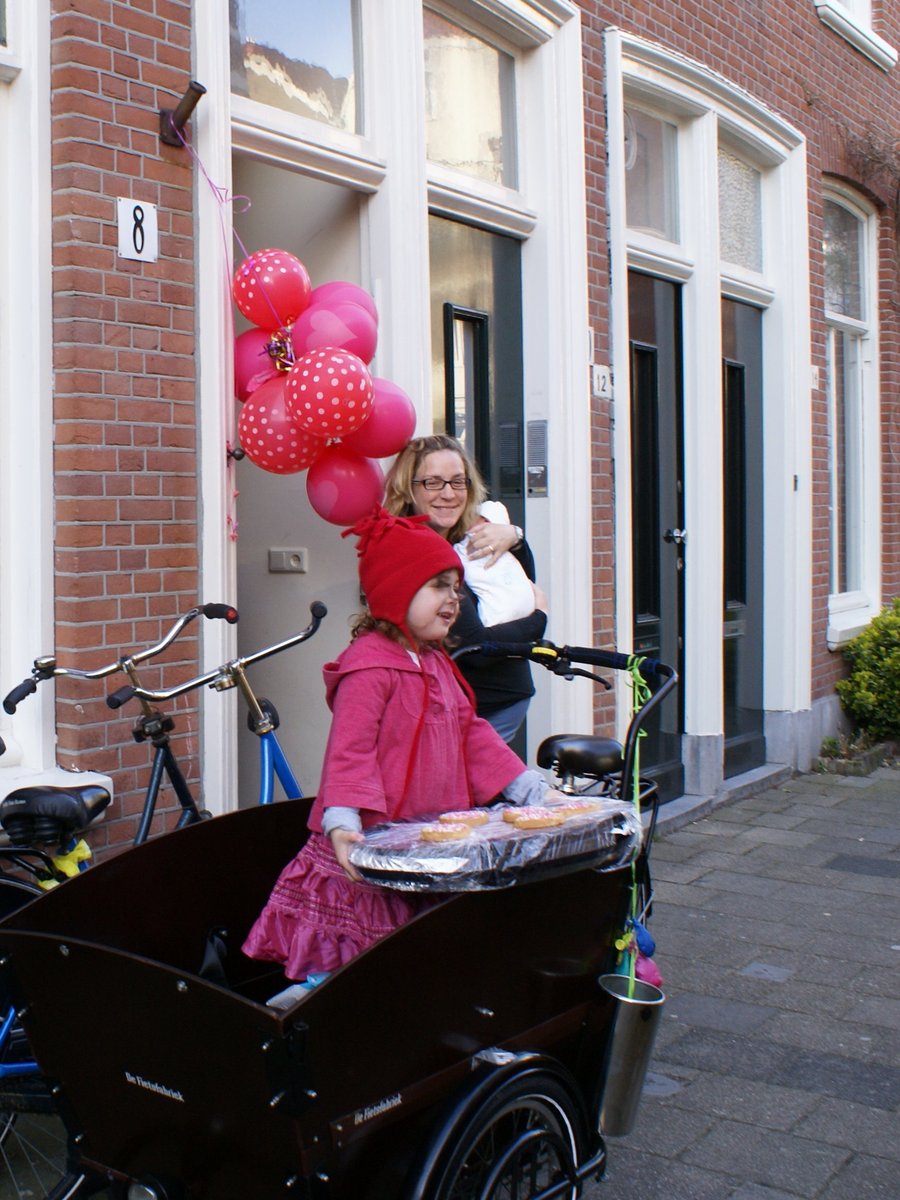 For Mihal, the highlight of giving birth in the Netherlands was the kraamzorg. This is a midwife that comes to your house every day for about eight days, for six hours each time, to check the baby, clean the house and help look after older kids and mum.
'After a few hours in our home, with our newborn, two-year-old and four-year-old, far away from family and friends back home, the kraamzorg excused herself to make a call and reported back that the insurance company had approved her to stay for an extra few days,' Mihal says. Health insurance in the Netherlands is compulsory, and it fully covers the cost of the kraamzorg (who provides support to all new mums, regardless of where they give birth).
In In Hong Kong, rest and recovery for new mums is also part of the culture, Aviva explains. 'The mother and baby stay home for 40 days of confinement and are supported by family or helpers. There is a culture of support. Even after the 40 days, babies aren't really seen out and about, they should stay home. If the mother leaves, there is always someone at home to care for the baby.'
Kelley says the same of her experience. 'In Lao culture there is always a postpartum rest with family all around. In Bali, women are expected to not leave their family compound for 40 days and again have loads of family support and are given special foods,' Kelley explains. 'In America, as a new mum I would never have had as much support as I enjoyed in Laos.'

Support was not something that was overflowing in LA. Simone says that there was no council playgroup or anything that connected her to other mums. 'The only way to organise one was to seek them out and pay for them. There was The Pump Station in Santa Monica, but it wasn't cheap,' she says (explaining that one time she walked in, Reese Witherspoon walked out). 'I wanted the support. I wanted to meet people. I wasn't sure who to ask if I had questions. So I did that for a year with my first. I would also just meet people at the park and became a bit stalkerish and swap numbers.'
This was pretty much the opposite of Jodie's experience in Tel Aviv, Israel where she had her first two babies. 'They had a health centre dedicated to pre-natal and post-natal exercise, educational programs (including food preparation, baby first-aid and more) as well as support groups (usually 5-10 women run by a social worker with your bubs),' she explains.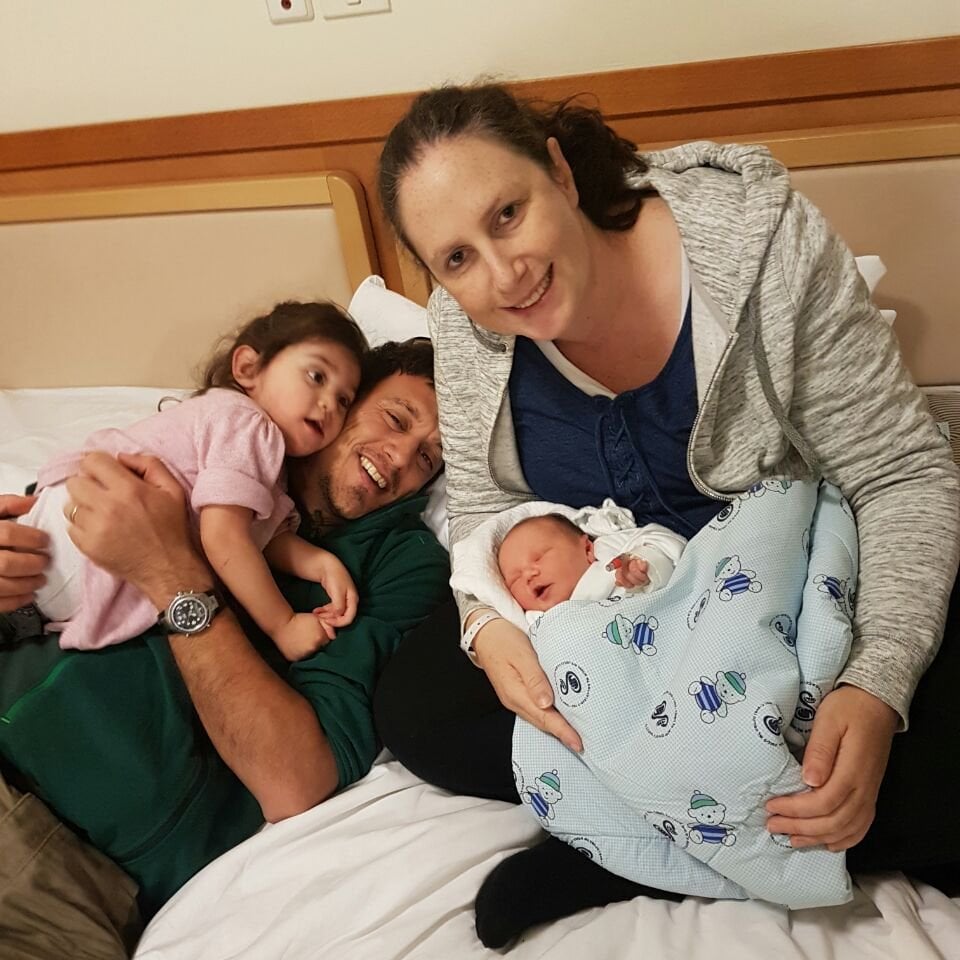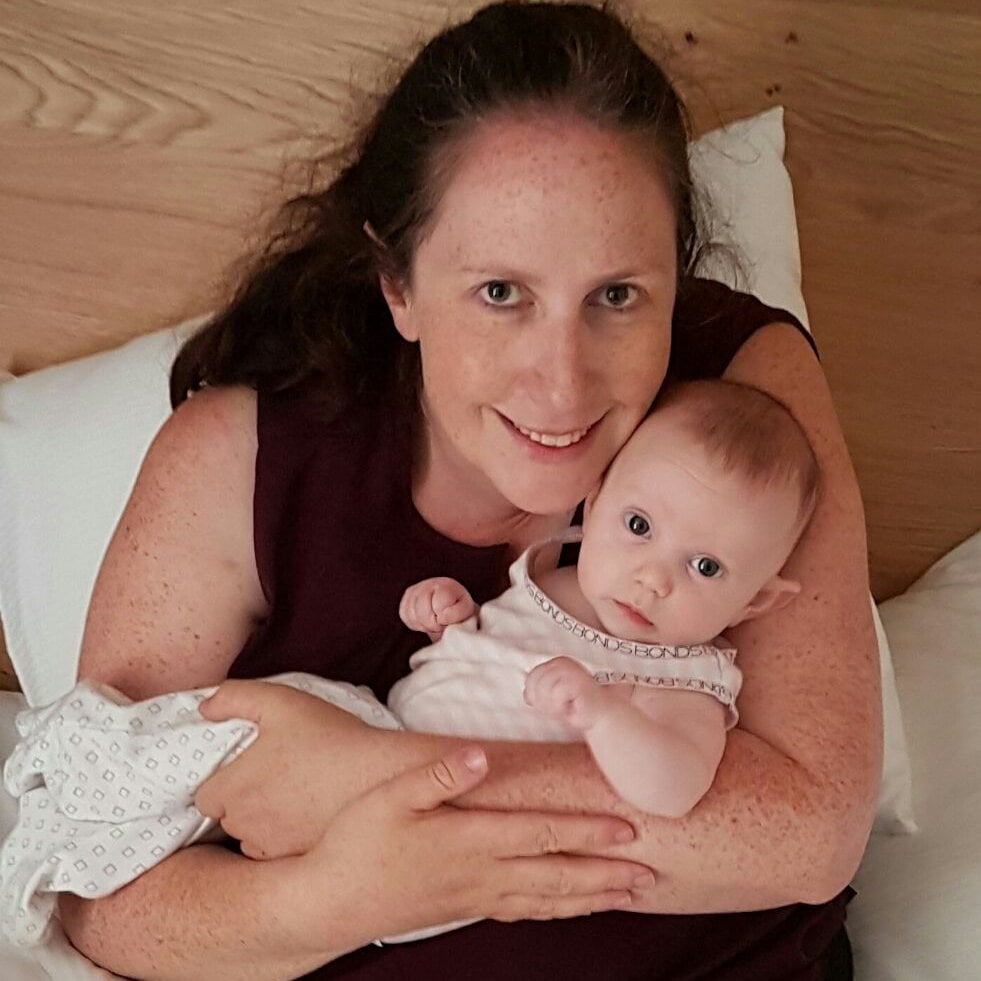 The programs were all subsidised to make it affordable and to encourage women to attend. Post-natal yoga cost around $5 a session, for example. 'The idea is to support the general health and mental health of new mums. This was an incredible space for me, and I would visit three to four times a week for various courses and exercise. Some of my closest friendships were formed from the support group I attended.'
When Jodie returned to work at a Science Institute as a Senior Researcher, they allocated her a private office so that she would be able to feed whenever her baby came in.
"In Israel it's also very accepted to be at events, conferences, meetings with a small baby.
"There were many occasions that I would attend (and present) at large scientific conferences with my bub in my Baby Bjorn, breastfeeding in the back of the room when needed."
In In LA, Simone didn't quite have the same feeling that breastfeeding openly was the norm. 'Everyone wears these giant aprons to feed. It's a really big deal,' she explains. Luckily, Simone felt comfortable and confident enough to feed when and how she wanted to. 'I just felt...this is my baby! These are my boobs. I don't care who sees them!' Part of this was the Australian attitude to feeding and body confidence and part of it was just Simone's personality.
'It was kind of like a challenge. Up to a point it was like, are you kidding me? I'll show you!' It also meant that as her kids grew, ensuring they were comfortable in their own skin was important. On hot days it was sprinklers on and clothes off, with toddler bums running around the garden. 'When we left the States, one of my friends said: 'What are we going to do now? There won't be anywhere for kids to run around naked.' We were the naked family.'
'In Australia, when my baby wasn't feeding and I had terrible supply, I was given access to breast pumps, lactation consultants and midwives while still in hospital,' Amber explains. 'But in the UK, the nurses asked if I had any other children and I said "yes" and that was the last of it. No offers for advice or to check on the feeding.'
While being overseas without family (or a culture that supported new mums) wasn't ideal, it was something that Simone knows made her a stronger and more confident mum. 'There were times I wanted that family support, but having to do so much by myself validated me as a mum. When things got hard, I didn't have anyone to call, I just had to do it. And when I realised I could do it, I felt great. And it made Tobi an amazing father and partner because we just rallied.'
Kelley was so inspired by her experiences birthing around the world that she went back to school to become a midwife. 'It was quickly apparent to me how different friends and women I knew had had such different experiences in birth and the role of the care they received. Also, the impact that cultural expectations of birth had on all of us.'
From Indonesia to the Netherlands, home births to scheduled c-sections, the journey to becoming a new mum is entirely individual. But we all find our feet, find our own way, and ultimately find out exactly what we're made of.
Join the Elevit community by visiting everybeginning.elevit.com.au for videos and articles from parents and parents to be on the same journey as you.
Elevit supports baby's healthy development. Always read the label. Follow the directions for use. Dietary supplements are not a substitute for a balanced diet.