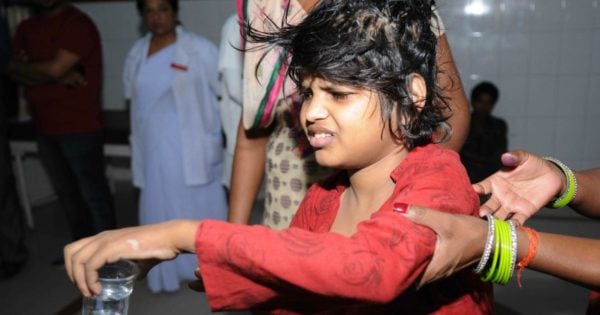 Last week, news broke of an 11-year-old girl who was rescued from a forest in Northern India back in January.
Police in Uttar Padesh, India, stumbled upon the girl living in the forest with a group of monkeys. She could not speak, her behaviour was notably abnormal, and she was scared of humans. Dubbed "Mowgli Girl" (after the protagonist in The Jungle Book) she was naked, often walked on all fours and ate directly from her mouth.
But as the story continues to unfold, it becomes more and more complex.
On Saturday, forestry officers said it would have been impossible for the girl to live in the forest and be raised by monkeys for so long undetected because the area is regularly patrolled.
The theory, then, became that the young girl, who is severely mentally and physically disabled, was abandoned in the forest by her carers.
Now, a man has claimed the 11-year-old (who has now been named Ehasas) is his niece, who went missing over a year ago.
According to The Indian Express, Bhullan Ali said his niece disappeared from her home in Jaunpur's Kamalpur village in March 2016, and hasn't been seen since.
Officials reveal heartbreaking likely reason 'Mowgli girl' was living in a forest https://t.co/bMz9Dubiee pic.twitter.com/P5PhmH7MRk

— The Sun (@TheSun) April 8, 2017