A 12-year-old girl has set her sights on becoming an obstetrician-gynecologist after helping to deliver her baby brother.
Jacee Dellapena, who lives in Brandon, Mississippi, physically helped bring her brother into the world on Tuesday – and she couldn't be prouder.
Jacee told Today, at first she just wanted to watch the delivery, but the table her mother was lying on was too high for her to see what was going on.
"I started crying because I was too short to see anything," she said.
"The doctor was like, 'Just go ahead and get some gear on and come help me deliver the baby.'"
"I was like, are you kidding me? Are you being real?"
Jacee's mum, 34-year-old Dede Carraway, was also, erm, a little surprised by the doctor's suggestion.
"I couldn't believe it. I was like, 'What? Uh, no. Never in a million years'. But the doctor said, 'I'm being serious. I'll guide her hands and everything,'" Carraway recalled.
"So she got up in there and was suddenly in the middle of everything."
Not only did Jacee get to help deliver her baby brother – but she also cut the umbilical cord.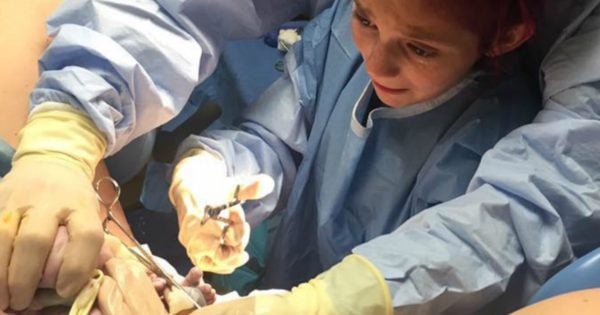 Jacee wanted to be in the delivery room for the birth of her other brother, Zadyn, 18 months ago, but Dede and her husband Zack, thought she was too young.
As soon as she found out her mum was pregnant again, Jacee began to plead her case once more - and her mum and stepdad decided to give her a chance.
"She's already had sex ed at school. I didn't see no reason why she shouldn't be there," Dede told Today.
"I don't hide anything from her. I think that the human body is natural and if she learned about it at school, there's no reason why she shouldn't learn about it at home, too."
Listen: Everything you need to know about the final days of pregnancy - and giving birth. Post continues...
Jacee says even though she was a "nervous wreck" during the delivery, she "couldn't believe" she got the opportunity to be involved.
"It was like, 'Oh my goodness, I just delivered a baby', and it's my baby brother, and I'm going to tell him when he gets older that I delivered him. I can't wait," she said.
Jacee told Yahoo Beauty that childbirth isn't "scary" but "interesting" and she plans to deliver more babies in the future.
"I want to be an ob-gyn. I'm going to work hard and study and find my way there."