What do you fear most: death or public speaking? Numerous studies show that it's the latter that strikes terror into our hearts.
But like it or not, you need this skill – and not just if you have a high-flying career and are called upon to give a keynote presentation.
In the end if you've got something to say, there's a time when you need to say it. It might be a work situation. It might be a volunteer role. Somehow you've got to override the terror and step up to the plate.
Failure flashes in front of you in neon light. What if I make a fool of myself? What if I'm mediocre? The latter question is a good thing to worry about. Most speeches are boring – too waffly, clichéd and self-serving. They are endured not enjoyed.
On the flip side, public speaking can be an extraordinary opportunity. You can inspire others. At the right time, the right idea can transform a person. In our hearts, we all know that.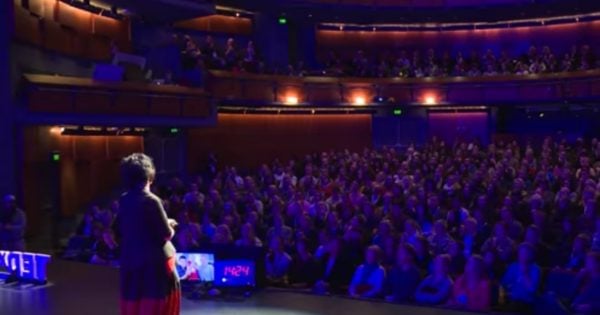 I won't lie. Speaking at TEDx Canberra a few weeks ago scared the pants off me. But as American scholar Brené Brown says, you have to put yourself in the arena:
"I'm constantly reminding myself that I can't wait until I'm perfect or bulletproof to walk into the arena because that's never going to happen. We just have show up and let ourselves be seen – that's my definition of 'daring greatly.'"
How do you grab the opportunity with both hands? This is what I learned from TEDx.
Do the work.
If you watch TED talks regularly online, it's easy to think the speakers are just gliding through their talks. Wow. Look at that man. He's so confident. Look at that incredible woman. She knows her stuff. She's brilliant. This might be true, but a bucket load of work went into that perfect talk.
It looks effortless because the speaker knows it so well. My TEDx talk went through eight drafts. I fact-checked even the tiniest things. I rehearsed over and over again – sometimes out loud and sometimes in my head.
A month beforehand, I recorded my talk onto my smart phone and played it back every time I had to drive or walk somewhere. While this might seem exhausting, keep your eye on the ball. If you become a great public speaker, not only will you have the satisfaction of feeling heard, but doors will open for you.
Hit them hard.
Just like when you first meet someone, the first 30 seconds are really important. You have to make an impression fast. Start strong. Tell a story that will hook the audience in and give them a clue about where you're going. Then they'll be ready for you to take them with on the journey.