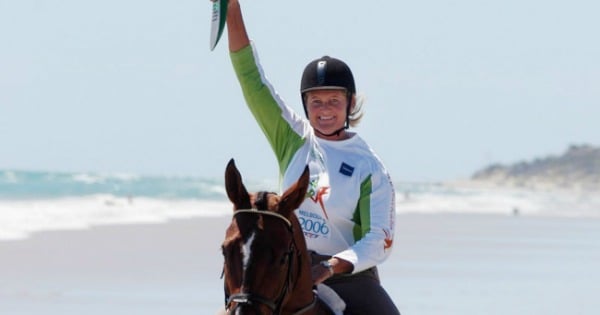 Australian Olympic Committee boss John Coates has paid tribute to the unending courage of dual equestrian gold medallist Gillian Rolton, who has died after a two-year battle with endometrial cancer. She was 61.
She won gold in eventing at the 1992 Barcelona Olympic Games with teammates Matt Ryan, Andrew Hoy and David Green, and then again in 1996 in Atlanta with Hoy, Phillip Dutton and Wendy Schaeffer.
She was inducted in 2000 into the Sport Australia Hall of Fame.
"Gillian was a determined, brave and courageous athlete and showed just the same qualities while battling her illness," Coates said.
"She is a true inspiration to all of us and I extend my deepest condolences to her family and friends."
Rolton was given her first horse at the age of 10, and began riding competitively soon after. She was a late inclusion in the Barcelona 1992 team, with her horse Peppermint Grove, after beating all male members of the team in the final selection trial at Savernake, England.
The Australians were in second place behind New Zealand for the final team jumping phase. One Kiwi rider had a disastrous round, and Rolton, Hoy and Ryan all rode with poise to win gold.
At her second and final Games campaign in 1996, Rolton won her second gold medal, despite finishing with a broken collarbone and broken ribs.
She suffered her injuries when Peppermint Grove fell and skidded during the endurance phase of the event.
She remounted, unaware she had suffered the fractures, and rode on, but unable to use her left arm.