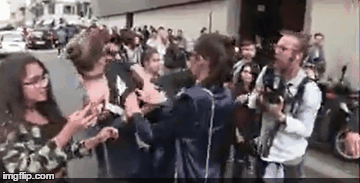 Last week model Gigi Hadid had to defend herself twice.
She had to fight back against a physical attack by a stranger on the street in Milan and then later she had to fight back against the media criticism saying she was wrong to do so.
But there was one person who certainly stood by her throughout the ordeal: her mother, Yolanda Hadid.
In this week's issue of Lena Dunham's Lenny Letter, Hadid says her mum taught her the skills she needed to fight back the way she did and that she was rightfully proud of the way she handled herself.
"When my mom (sic) first saw what had happened, she texted me the picture of me elbowing the guy and (among other messages of support) said, 'Good girl'," Hadid writes.
"My mom has taught me the power of my instincts since I was a kid. She'd always be like, 'OK. Pay attention to the people who make you feel uncomfortable. I want you to tap into that and be aware of it.' I continue to use that intuition with the fashion industry and the people who I have to be around. It usually guides me pretty well. I think it guided me in this situation, too."
In her piece, the 21-year-old model describes the moment she was attacked. She explains that when she felt her assailant—parasitic celebrity harasser and one of the world's most storied assholes Vitalii Sediuk—picking her up as she left a Max Mara fashion show in Milan her first reaction was: "Get me out of this situation."
From there, she reacted instinctively. She explains that she started boxing two years ago but since then hasn't been in a situation that forced her to fight back. But when he grabbed her "it wasn't a choice" she says adding "I do have that fighter in me."