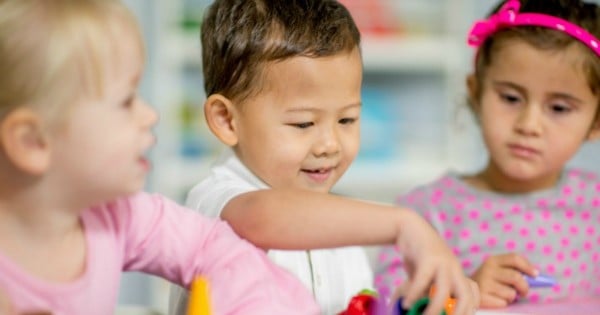 According to a story in the Sydney Morning Herald, not all kids need a break. (Just the dumb ones.)
'Gifted' children like the eight-year-old featured in Sarah Muller's 'Who Has Time for a Holiday' are busy learning Shakespeare, completing a three week golf intensive, engaging in classical music workshops and cramming Kumon camp.
Apparently, this particular kid even took mathematics worksheets to his Island holiday. Who wants to snorkel when you can fast track the syllabus? Who wants to eat pie when you can calculate it to it's 1000th decimal place?
As a parent of five children I read this story with sadness. And it wasn't just because my kids are the dumb ones who need to do nothing for 6 weeks.
Watch: why play is important for kids. (Post continues after video.)
Frankly, I'm relieved. I don't want a gifted kid. It's exhausting enough keeping up with the daily demands of my darling morons.
No, my kids have this thing called 'friends'. During the holidays they hang out with their 'friends' who like them, are also not classified 'gifted'.
They watch movies, they go to the beach, they play soccer, they climb trees.
While they may not be learning Mozart's Violin Concerto No 5, they are developing something else that's important to their success both now and in later life: social skills.
One of them washes dishes in a busy café. While it's not setting her on the path for a career in genetic engineering, it does teach a valuable lesson denied to the super achievers, and that's humility.
People without humility are unbearable.
It's hard to get to 'up yourself' scrubbing a pot. In fact, I think pot scrubbing might be a good skill builder for super kid.