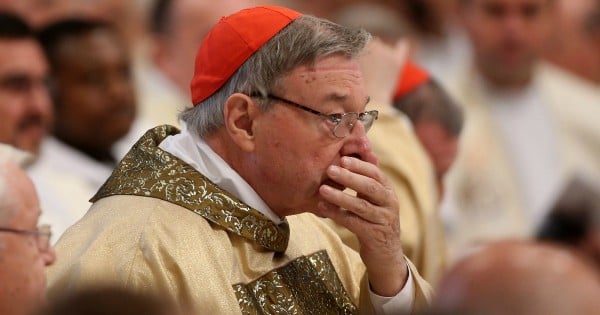 Victims of abuse have flown from across the world to testify – but the man who allegedly protected sex offenders is a no-show.
It has given a voice to the most vulnerable victims of the most abhorrent crimes.
Children who were sexually abused in schools, churches, sporting clubs and other organisations that were meant to keep them safe.
It has uncovered story after story, of lives, families and futures destroyed.
It has given victims an opportunity for closure that has eluded many of them for decades. In the tiniest of ways, it has given victims a long overdue opportunity for redress.
The Royal Commission into Institutional Responses to Child Sex Abuse has done all of these things.
But Cardinal George Pell is too sick to turn up to the Commission and explain why the Catholic Church appears to have been complicit in ruining so many lives.
The Royal Commission into Institutional Responses to Child Sexual Abuse was set up in 2013 to investigate the hundreds and thousands of Australian children sexually abused within institutions and to examine the way those institutions responded.
The Commission has found that, too often, organisations failed to report allegations to police. They failed to hold perpetrators accountable. They failed to take complaints seriously.
The Catholic Church is one of those Institutions. In particular, Cardinal Pell had been called to respond to allegations that he tried to induce David Ridsdale, the nephew and victim of notorious pedophile priest Gerald Francis Ridsdale, to keep quiet about his abuse.
Cardinal Pell, who lives in the Vatican and serves as its finance chief, was due to give evidence in December. He pulled out the week before due to his ill-health and was scheduled to appear in February if his health allows.
Next Friday the Royal Commission will hold a directions hearing in Sydney to hear whether Cardinal George Pell will appear in person when hearings resume. But it seems unlikely Pell will appear. His office in Rome has confirmed he is still too unwell to travel to Australia.
On the 15th of January he was not too unwell to attend the Global Foundation Organisation's two day summit with various world leaders, nor was he too poorly to deliver a keynote address at dinner.
In December last year Cardinal George Pell had his lawyers ask for a private meeting to discuss the Cardinal's non-attendance. He is, they say, too sick to travel. His blood pressure is too high.
Pell's lawyers' request for a private meeting was rejected by the Commission: "It is not appropriate that the essential requests contained in the letter be confidential, and it was not appropriate for me to meet with Mr Myers on a confidential basis," Justice McClellan said. "I have not done so."