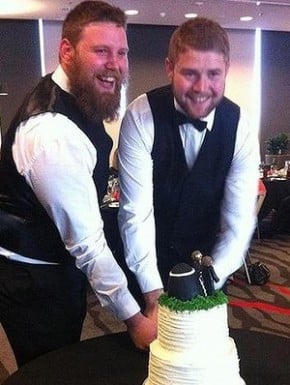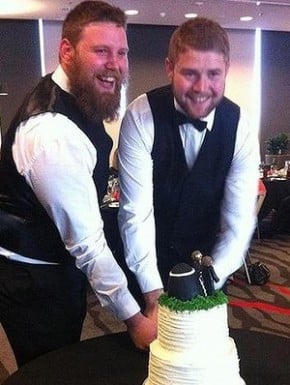 By LOLA JENNINGS-EDQUIST
It was called to my attention that two men got married today. It's disgusting. It's a travesty. It completely ruins the whole point of marriage. It's-
Oh. Wait. I've gotten ahead of myself here.
Let me rephrase: It was called to my attention today that two straight men got married. To each other, for a competition. Yep.
In case you've missed the news reports, Travis McIntosh and Matt McCormick, two straight, 'rugby-loving' mates (reporters seem to feel it's important to point out they love rugby, because apparently that's a very heterosexual bonding sport) won a competition with New Zealand's The Edge radio station.
And according to the station, the point of that competition was for 'two best mates' to have 'to marry to win the trip of a lifetime', in an act of 'true bro-mmitment'. Right.
I have a little problem with that. Because in the name of 'true bro-mmitment,' the competition's organisers seem happy to willingly slap in the face a decades-long fight for civil rights. It's as if they sat around thinking: "Hey, you know what will be super fun? Let all those gay people know that no one takes their marriages seriously. Again."
As a young gay woman, I can't begin to tell you the amount of times I heard that growing up. Not as a direct quote, of course, but I still heard it.
I heard it every time I saw the words 'sanctity of marriage', or read a story about a young heterosexual couple eloping and getting divorced 72 hours later, or whenever I was told that "civil unions are just the same!," or saw same-sex families with three kids still unable to wed because, for some reason, straight people had decided on their behalf that one kind of relationship was more legitimate than another.