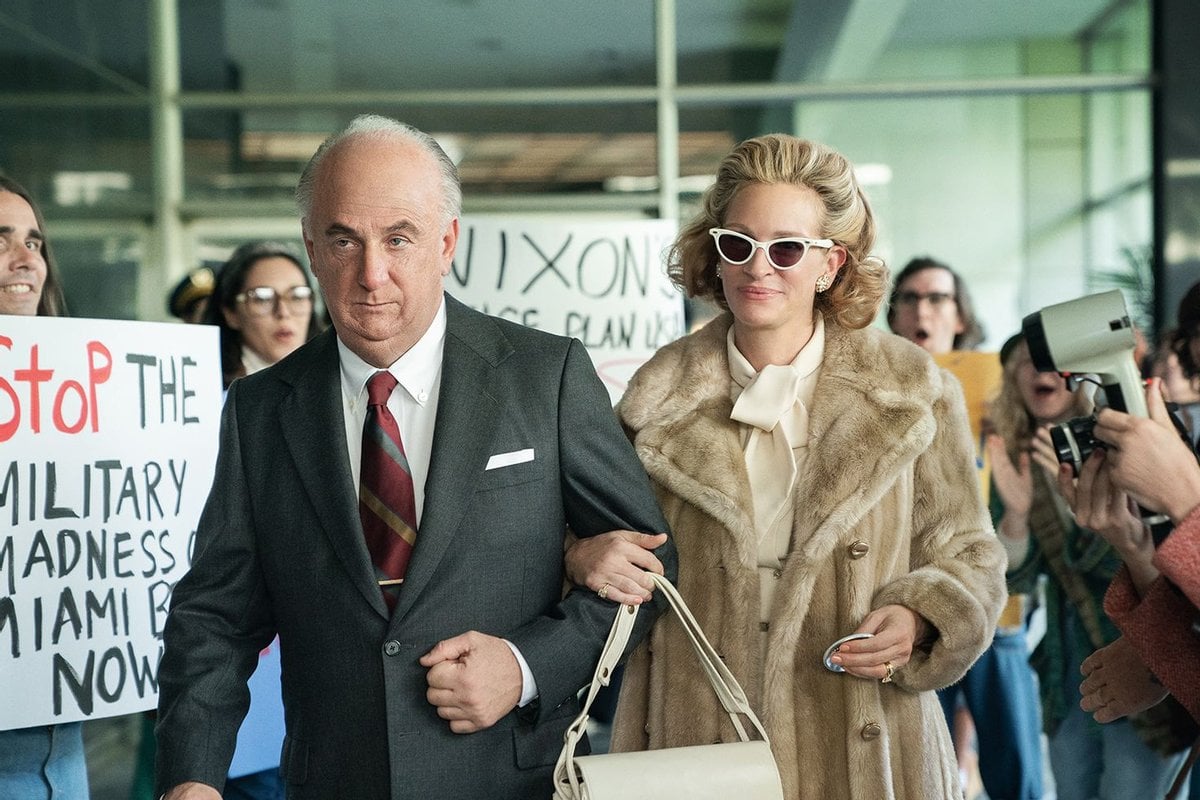 There are certain images that come to mind when you think about the Watergate scandal. 
Secret files. Hushed midnight meetings. Seasoned journalists piecing together the puzzle. President Richard Nixon addressing the nation. 
An image that rarely comes to mind is that of an Arkansan socialite with big hair and an even bigger mouth, who was hellbent on telling the truth, no matter what the cost. 
Another image that rarely comes to mind is that same Arkansan socialite being kidnapped, drugged, held against her will, and silenced. If only for a brief period. 
Stan's new series Gaslit is a modern, star-studded political thriller that tells the little-known story of Martha Mitchell and shows a side of the Watergate scandal that you've never seen before. 
Watch the trailer for Gaslit, only on Stan. Post continues below. 
The series premiered on April 24, only on Stan, and is based on the first season of the hit podcast Slow Burn. It stars Hollywood heavyweights Sean Penn and Julia Roberts as John and Martha Mitchell. Gaslit also stars Dan Stevens as John Dean, Betty Gilpin as Mo Dean, Shea Whigham as G. Gordon Liddy, and Darby Camp as Marty Mitchell.
The eight-part series is a modern take on Watergate that focuses on the untold stories and forgotten characters of the scandal, from Nixon's self-serving subordinates, to the deranged zealots aiding and abetting their crimes, to the silenced whistleblowers who would eventually bring the whole rotten enterprise crashing down.
According to Gaslit creator, executive producer, and showrunner Robbie Pickering, the goal of the series is to take the audience behind the scenes to twist the known narrative of the scandal in this thrilling, stranger than fiction tale of love, marriage, politics, hope and betrayal. 
"Gaslit is the Watergate story you've never heard before. At the centre of the show is Martha Mitchell, an unlikely whistleblower who is the first person to bust the whole scandal wide open and ultimately becomes the subject of a vicious White House smear campaign enacted in part by her own beloved husband, Attorney General John Mitchell," Pickering said in a statement.
"I can't wait for viewers to experience the extraordinary performances in this remarkable ensemble, led by Julia Roberts, brought to life in this thrilling, stranger-than-fiction tale of marriage, love, betrayal, and ultimately, hope."
While the series tells the stories of many of the forgotten characters of the Watergate scandal, it primarily focuses on the story of John and Martha Mitchell. 
Penn is almost unrecognisable as Nixon's self-serving lackey Attorney General John Mitchell. Roberts plays John's wife Martha, a card-carrying member of the Republican party and an Arkansan socialite who had a penchant for drinking whiskey and calling journalists late at night. Martha was so well-known in certain circles, she earned the name "the Mouth of the South", while the New York Times once called her "the most talked about, talkative woman in Washington".