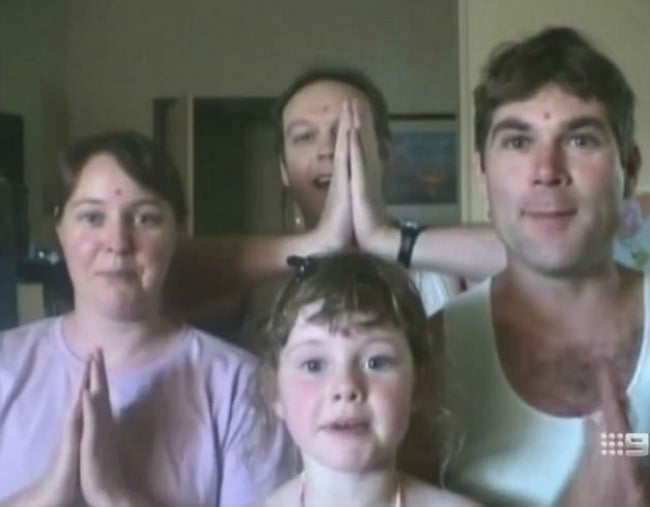 Before last week's coronial inquest into the baffling disappearance of a cult leader and his family a decade ago, the favoured theory was that they had taken their own lives in the West Australian bush in a suicide pact.
That could well be what happened.
But as witness after witness told the inquest they believed the group were still alive, enough doubt was raised to have Coroner Barry King wondering whether they were still alive and living "under assumed names".
Gary Felton, 45, who had stolen the identity of a former colleague in his native England and was now known as Simon Kadwell, disappeared with partner Chantelle McDougall, 27, their daughter Leela, five, and friend Tony Popic, 42, from their home in the WA logging town of Nannup in July 2007.
They left a note saying they'd "gone to Brazil" to live in a commune.
There have been no confirmed sightings since, despite a global search.
Bank accounts were untouched and the clinically depressed, self-styled guru had posted to followers on his website that he was planning a suicide pact that he called a "peaceful death".
After the three-day inquest in Busselton, Coroner Barry King indicated he would not be able to make a conclusive finding about whether the group were dead or not.
Mr Kadwell possessed the extraordinary charisma typical of cult leaders such as Jim Jones and David Koresh, which can brainwash and control others.
He was living in Perth at one stage in a harem situation with three women, including Ms McDougall and Deborah Fleischer, who he had a son with.
The third woman, Justine Anne Smith, told how the women were all earning income and supporting Felton, who did not work.
She was in love with him and believed she was improving as a person by subscribing to his beliefs, which were a mishmash of traditional and New Age religion and conspiracy theories involving aliens, reptilians and a looming doomsday or judgment day.
Felton was controlling, discouraging the women from contacting their families, which included barring McDougall's parents from seeing their granddaughter Leela, so her mind would not be "corrupted" or "poisoned".
Listen: The podcast that will challenge everything you know about Jonestown. Post continues after audio. 

"I thought of it as a cult at times … when I tried to break away emotionally I didn't know anymore (how to make decisions), because he would control what you were doing," she said, adding that an angry Felton once physically held her against a wall after she left him.