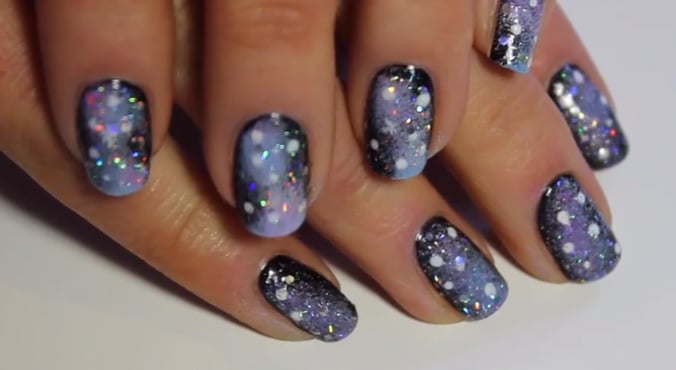 Image: Youtube.
We think the question here is why wouldn't you want a intergalactic galaxy print on your nails? It's Friday, nail art is fun and this is one from The Nail Trail is way easier than it looks – exactly what we like in a beauty tutorial.
What you'll need:
A black nail polish – Black Onyx by OPI
A white nail polish  – White on White by China Glaze
A purple nail polish – That's Sure Bright by China Glaze
A mid-blue nail polish – Bahamian Escape by China Glaze
A holographic glitter polish – Desperately Seeking Sequins by OPI
A dotting tool
A makeup sponge
Hannah is the face behind The Nail Trail, she's a self-taught nail artist from Melbourne, who became obsessed with nail art in 2011. She's now taken her polishes and moved to Canberra, where she works as a media adviser.
Are you a nail art obsessive? You'll love these 21 minimalist designs – they're simple (and easy!) but look awesome.
The best minimalist nail art on Pinterest
We think you'll also enjoy:
The genius tool for people who can't paint their nails
The next frontier in nail art is really, really impractical