Despite the high-profile nature of Gable Tostee's sensational case, his family remained tight-lipped throughout.
Tonight, that changed.
In a special segment of current affairs program 60 Minutes, the Queensland resident's parents Helene and Gray Tostee broke their silence about his arrest, trial and what it's like to have a son accused of murder.
"Totally unbelievable and surreal," Gray told the programme of Gable being charged.
"Didn't make any sense."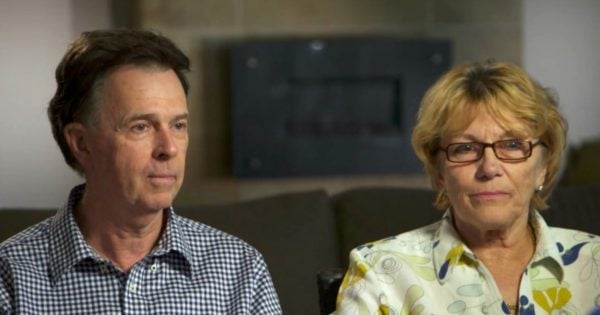 Gray and Helene Tostee break their silence. Image: Channel 9. 
After four days of deliberation and a near-mistrial, a Supreme Court jury ultimately acquitted Tostee of any wrongdoing in the death of his Tinder date, Warriena Wright, who fell 14 storeys from the balcony of his Gold Coast apartment in the early hours of August 8, 2014.
It was his father he phoned after the tragic event, and his mother who was there when police placed him in handcuffs a week later.
"Yeah, it was hard to process," Helene said on tonight's episode.
"I didn't know why it was happening, to be called an accused murderer. My son. Knowing the type of person that he is - caring and considerate and thoughtful of others. Never harmed anyone else."