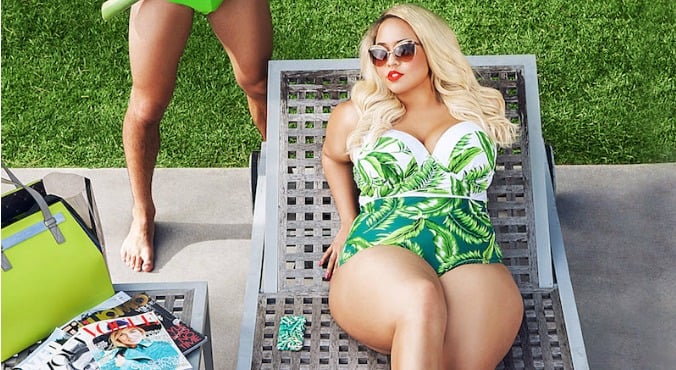 Image: Gabi Gregg
This article originally appeared on Mic.com
"Every body is a 'good body.'"
This is the philosophy of Gabi Gregg, deemed "the founder of the blessed fatkini movement." A Detroit native and the creative genius behind the fashion blog GabiFresh, Gregg spoke with Mic about her swimsuit line of nine bikinis she did in collaboration with swimsuitsforall.
"No one deserves to feel shame over the way they look," Gregg said, "so those of us who believe in this philosophy are unlearning the ways our society teaches us to hate ourselves. In terms of fashion, it's about wearing what you love and what makes you feel good, regardless of what we're told is 'right' for our bodies."
Through her philosophy and her chic design aesthetic, Gregg's voice in the body positive movement shows that all bodies can be fashionable, not just the ones you see in the Sports Illustrated Swimsuit Edition.
The collection offers a number of firsts for the budding designer, including the number of pieces (she's expanded her line from three to nine) as well as the range of sizes (E/F cup options have been added for sizes 18 to 24). Gregg took charge of all design elements, she said, "from thinking of prints to getting the fit right." She said she took more risks this time around from creating the teal and pink "jellyfish bikini" to using banana leaf print.
Knowing that "plus-size women want to feel supported," Gregg took great effort translating her body positive philosophy into the designs themselves.
Finally, a celebrity shares a beach photo that actually looks real.
"I am never limited by what women 'should' wear," she said. "I know so many plus-size women want the same bold, cool designs as everyone else." The problem, she says, is that designers think plus-size women are ashamed of their bodies. "So many plus-size designers and brands wrongly believe we want to hide."