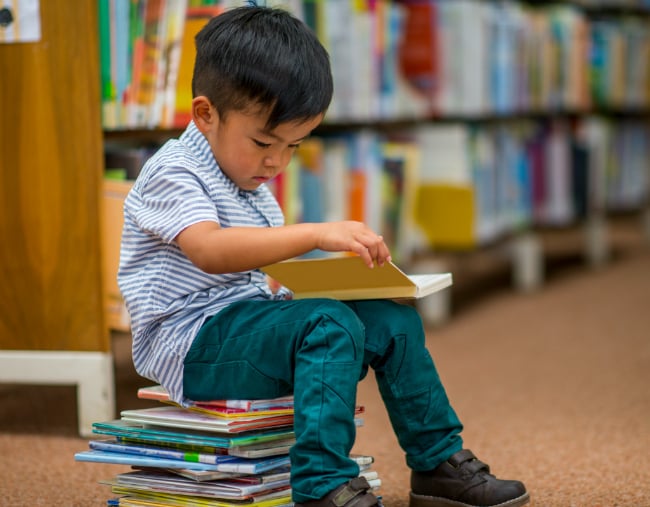 A kid's savage response to a homework question has gone viral after his mum posted the response to her Twitter page.
Laura's child was asked "would you recommend this book to a friend and why?". The six-year old answered, "no, it is my favourite and I don't want anyone else to have it".
A tiny piece of writing, all about the love of books and reading …from my son's homework when he was six. #NationalWritingDay pic.twitter.com/ppYQZoSjoN

— Laura (@Mum_Reader) June 27, 2018
The tweet, posted to social media on Wednesday, has been retweeted nearly 6,000 times, including by acclaimed author J.K. Rowling, and liked 33,000 times – because let's be real, we can all relate to this.
Whilst adults are perhaps a little more accustomed to concealing their selfish desires, kids can of course be a little more brutal, and who can blame them.
So, what is the book that stole this kid's heart? After lots of parents asked, the mum said it was There's a Dragon at my School by Phillip Hawthorn and Jenny Tyler.
They'd been asked to review their favourite book "from when they were little" (I guess that's a relative term when you're only 6 yourself ????) pic.twitter.com/7UlHJBp4Ot

— Laura (@Mum_Reader) June 27, 2018
The book's synopsis says "There is a surprise under every flap as young children discover what the naughty dragon is up to at school".
Adults responded in masses sharing that they could definitely relate to the feeling of those times when you just don't want to share.
Brilliant. It's often the way I feel about music too… when you discover a new artist and listen all the time then suddenly everyone loves that music and boom, it's all spoiled ????

— Linda Telfer (@ScotsLindaT) June 27, 2018
This is so sweet and I completely understand where he's coming from ????

— Denise Mitchell (@cakeandcadenzas) June 27, 2018
We've all been there ???? I feel like that now if people ask to borrow books.

— Jill (@JillsBookCafe) June 27, 2018
What he wrote is very relatable ????

— Rory Christie (@RoryChristie13) June 28, 2018
I know exactly how he feels- I want to keep my favourite books to myself in case the other person doesn't like them as much as I do!

— Mary Mitchell (@nanamarymitch) June 28, 2018