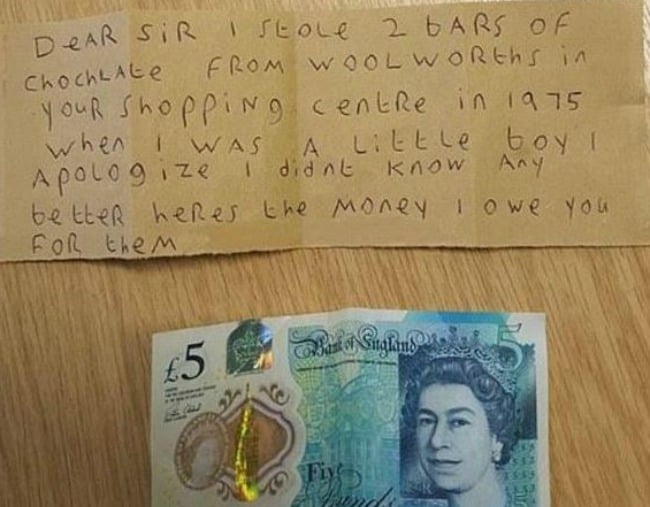 Yes, well.
We'll file this one under "unnecessary yet sweet notes".
You see, in 1975 a young boy stole two chocolate bars from a Woolworths supermarket in Liverpool in the UK.
Now, 43 years later, the boy who is now a man, has sent an apology letter to the supermarket, along with £5 ($AUD8.90) to cover the cost of the bars.
"I stole two bars of chocolate from Woolworths in 1975, when I was a little boy," the note read.
"I apologise, I didn't know any better, here's the money I owe you for them."
The letter was received by management at the Belle Vale Shopping Centre where the Woolworths used to stand.
As the supermarket no longer exists, the Centre is donating the money to the Zoe's Place baby hospice.
"In a time of division, it is great to see an act of kindness that restores faith in humanity," a spokesperson told the Liverpool Echo.
"Belle Vale Shopping Centre wants to thank the sender and acknowledge his apology. It is a positive message that is worth sharing to encourage all to be kind."
Thank you - just by clicking on this and other content on Mamamia, you are helping to fund education for some of the world's most disadvantaged girls.
Together with our commercial clients and charity partner Room to Read, Mamamia's goal is to be funding 1,000 girls in school each and every day, by June 2020.
Learn more here about our ongoing mission to make the world a better place for women and girls.