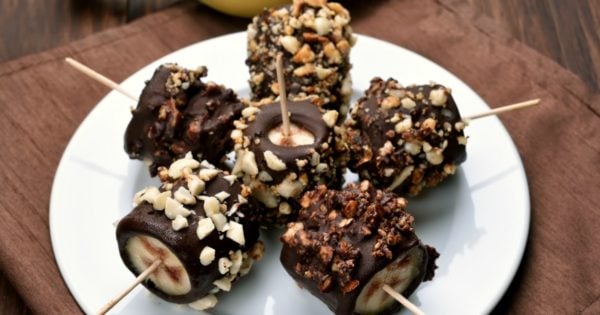 I love the sound of crickets on a hot afternoon. The smell of rain hitting a boiling hot road, or sunscreen left over on a beach towel. The feeling of standing up, and knowing you just left a puddle of sweat in your seat… mmm.
I remember whenever I'd come home from a long, hard, day at the beach, mum would be equipped with ice blocks. I'd always finish mine within about half a minute, and then steal my twin sister's. Two decades on, not much has changed.
But we can all get sick of the same ol' thing. This summer, it's time to mix it up a little. Try something new.
Here are five EASY and unbeatable frozen treats for this summer, that will make you feel like a kid all over again.
1. A banana dipped in chocolate and nuts
Excuse me, but this is very complicated (not) so it's best you listen up.
Freeze a banana – this consists of putting a banana in your freezer (profound)
Crush up some peanuts with a large knife, or put them in a zip lock bag and smash them with a mallet. It's really therapeutic. Trust me.
Pour melted chocolate into a tall glass
Dip your frozen banana into the chocolate, turning it into an even coat
Immediately roll the chocolate coated banana into the peanuts
You can serve them immediately, or wrap them up individually and freeze them for up to two weeks.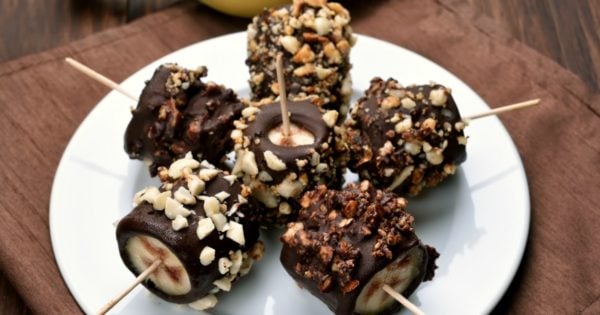 Chocolatey-banana-goodness. Image via iStock. 
2. Put grapes...in the freezer
CALL ME NIGELLA LAWSON. This involves...
a) Buying grapes and...
b) Putting them in the freezer.
Frozen grapes is one of the best things about a hot day/life.
3. Frozen fruit cup
Okay, I really outdid myself with the frozen grapes so I will take a step back.
You need plastic cups
Cut up oranges, strawberries, bananas, pineapple and watermelon into small pieces
Disperse evenly into cups
Add a touch of lemonade
Add a touch of orange juice
Top up with water
Chuck in the freezer
I think I could actually win Masterchef with this outrageous recipe. It's so easy, but when they're ready, they look like you tried really hard.