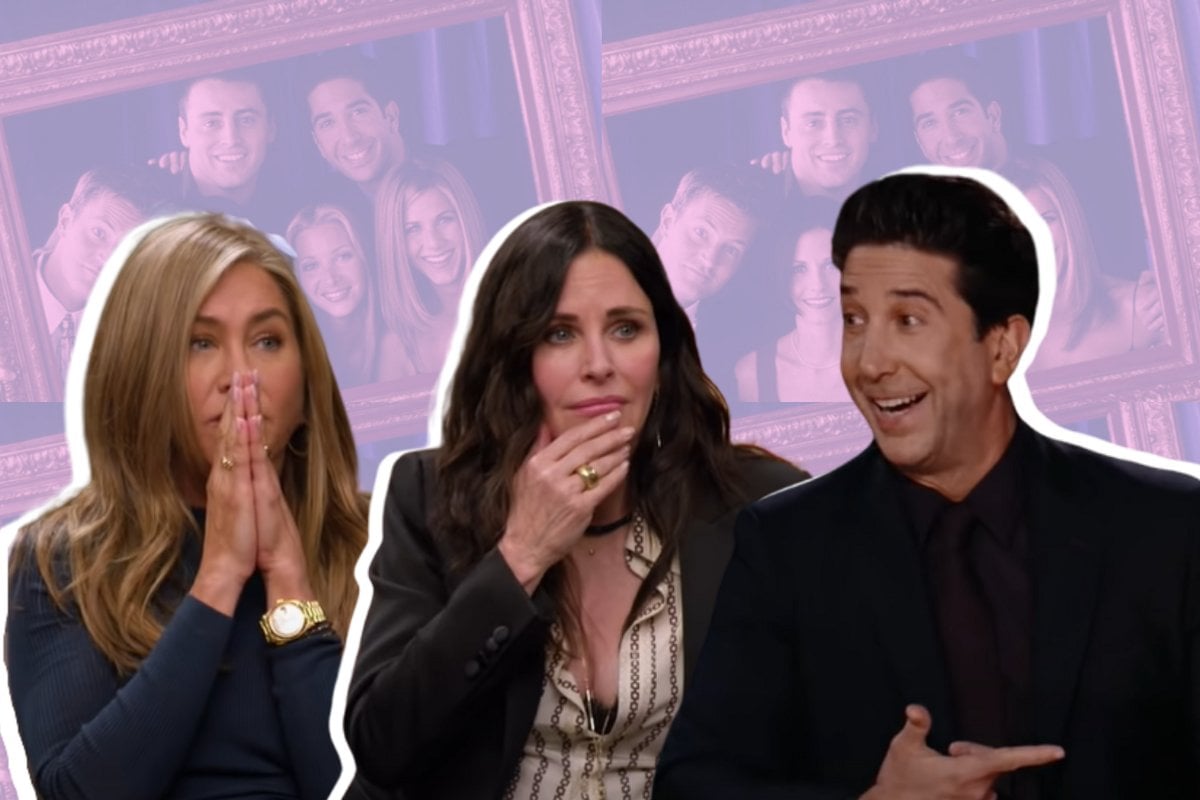 IT'S FINALLY HERE.
After months of rumours, Instagram teasers and deceptive YouTube fan edits (we've all been there), the Friends reunion special has finally aired. And could we BE any more excited?
Fans will no-doubt remember that the reunion was first announced back in February last year, when the six friends posted to their respective Instagram accounts, "It's happening". 
Now, the reunion has finally dropped in the US in honour of the show's 25th anniversary. And us Aussies were able to watch it for ourselves on the streaming service BINGE. 
Watch the trailer for Friends: The Reunion. Post continues below. 
While the reunion didn't follow the usual format of a regular episode, we still got to see the cast reunite, revisit the sitcom's set and share behind-the-scenes footage (which had us feeling all the feels). 
It also featured a bunch of guest stars including James Corden, David Beckham, Justin Bieber, Tom Selleck (who played Richard), Maggie Wheeler (who played Janice), and James Michael Tyler (who played Gunther).
Here's 15 things we learnt from Friends: The Reunion.
1. Since the finale, the six cast members have been in a room all together only once.
The episode opened with this statement, which frankly seems a little rogue as we've left many jobs and seen colleagues many times... But we'll ignore our gut intuition that this means there's been some kind of feud because we want to ENJOY THIS PLEASE. 
2. Apparently, the cast made a pact to stop aging all together.
They all look ridiculously good and we're sure witchcraft is involved. 
3. Courtney Cox memorised none of her lines, ever.
Matt Le Blanc casually outed that 'Monica' had all her lines written on the dining table or hid a script in the sink because she rarely memorised her lines for the show.
4. The cast nabbed something from the set.
Yep, the cast helped themselves to a little 'souvenir' from the show. And we honestly can't blame them. 
Jennifer Aniston took a neon sign from the coffee shop, while Matt Le Blanc took the ball from Joey and Chandler's much-loved foosball table.