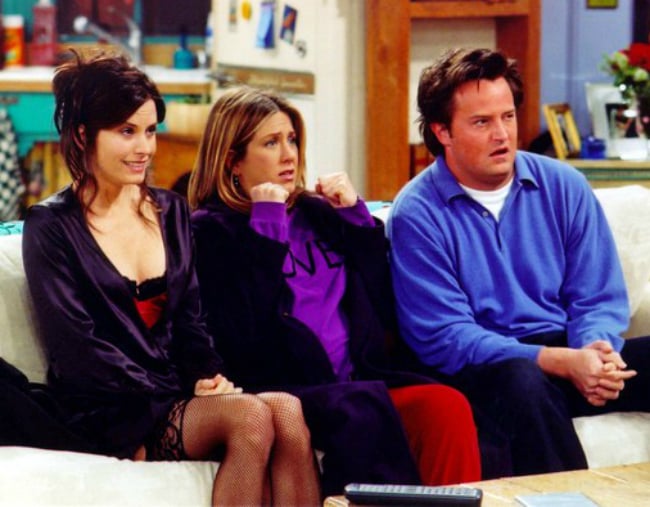 Unagi. PIVOT! The meat trifle. Ross' fake tan. The jellyfish incident. Smelly Cat. Some of the jokes from juggernaut sitcom Friends will never get old.
But then there are the others… The handful of plot lines and punchlines that might have landed well back in the 90's, but are coming more and more unstuck as time passes. You know, the kind about assault, fat- and slut-shaming, sexism, homophobia, transphobia.
Below are a few of the most screwed up.
The one where they make light of the fact that Phoebe is sexually assaulted at work.
In light of recent events in Washington D.C. and Hollywood, this plotline is one of the more unsettling when viewed in 2017.
While massaging Rachael's boyfriend, Paolo, in season one, the 'charming' Italian native exposed himself to her, stroked her thigh and grabbed her arse with both hands. All this, along with his towel-cloaked erection was met with roaring laughter from the studio audience.
In fact, sexual misconduct seems to be fruitful material for the show's writers: Joey's childhood tailor "cupping" his genitals also became a punchline, as did the fact that Chandler witnessed several "orgies" in his home before the age of seven.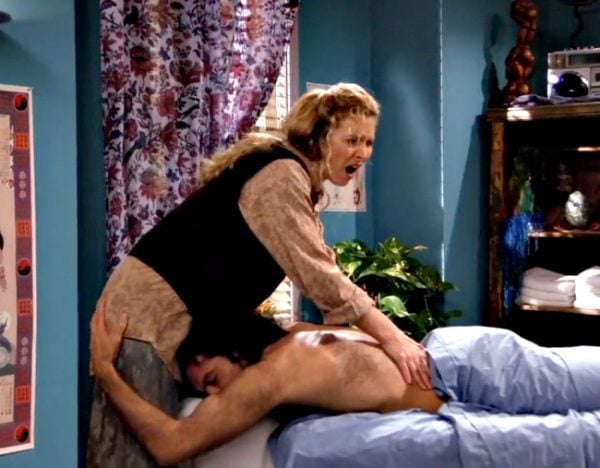 The one where teenage Monica was fat-shamed. Over and over and over...
It's a backstory that pops up several times over the show's 236 episodes. In case you missed it, Monica was fat.
There was the time the friends watched a home video of Monica getting ready for prom (sandwich in hand, of course) and Joey yelled, "Some girl ate Monica!"
The time everyone giggled at her uninhibited dancing or how she panicked that someone sat on her Kit-Kats.
But don't worry, it's OK laugh because she's skinny now. (That's how it works, right?)
The one where Ross realises he made out with his sister.
This technically could be filed under Monica fat-shaming, but is just so entirely cringe it deserves its own entry.
So... Recounting the first time he kissed Rachel during a wild party back in college, Ross tells Monica and Chandler how, "she was lying on my bed all buried under people's coats" when he bent to kiss her on the forehead. He accidentally landed on her mouth somehow, but she kissed back and "it was amazing".
That's when the penny drops. Monica: "Oh. Oh. OH!" Ross:"No! No! NO! You were under the pile of coats?!" M: "I was the pile of coats!"
That's... yep.
LISTEN: The Binge team deep dive on all the TV couples who weren't meant to end up together, including Monica and Chandler.