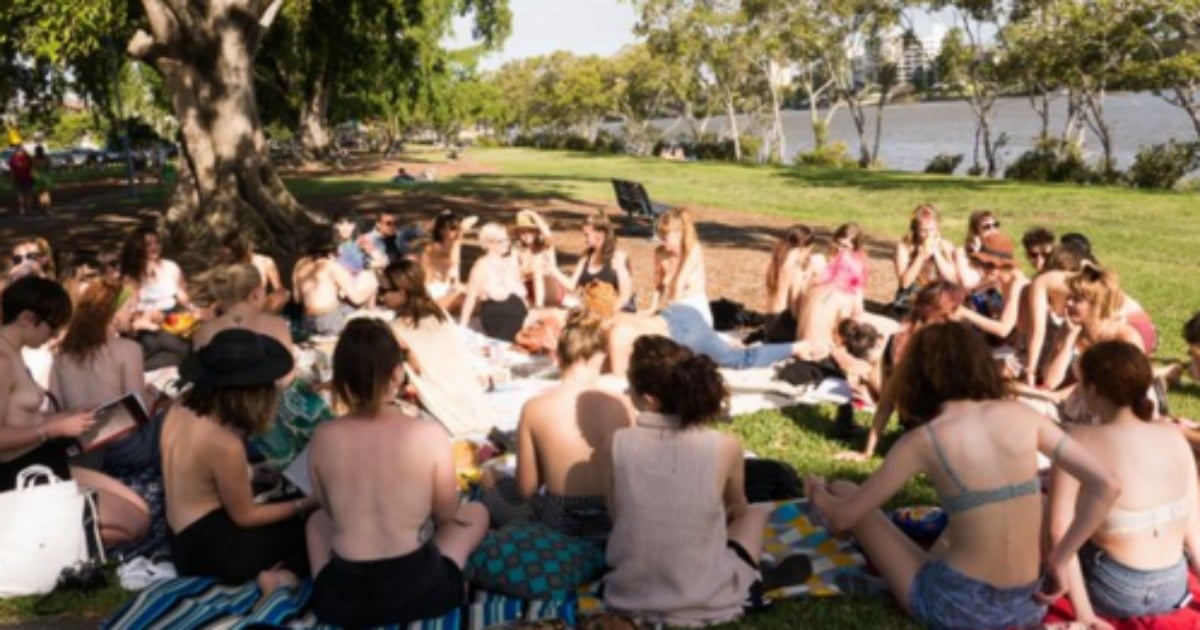 In Brisbane on a Sunday afternoon women gathered in a riverside park and took off their tops.
They weren't there to sunbake, or for a Spencer Tunick installation.
Instead, they were having a #freethenipple picnic, complete with boob-iced cupcakes.
Some women kept their shirts on, others adorned themselves with paint, but for the most part there was a lot of breast, and very little fuss.
This is the idea.
Free the nipple events have been taking place around the world for a few years now, as women frustrated with traditional gender expectations and the constant sexualisation of female bodies attempt to wrest back control of their breasts.
Impromptu and organised Free the Nipple events have also taken place at a number of festivals across Australia, including Queensland's Woodford Folk Festival and Victoria's Meredith Music Festival.
Men, the argument goes, can walk around topless – so why can't women?
Brisbane on a hot Summer's day provided the perfect backdrop to explore the idea.
Picnic organsiers Amanda Haworth, 21 and Zoe Buckley Lennox, 22, created a Facebook event which quickly ballooned from just their friends to a group of over 800 "going". Thousands indicated that they were interested in the picnic, ultimately about 50 people showed up.
"We want to share a space where women, [Non-Binary], and trans people are comfortable to take their shirts off, leave their shirts on or just leave their bra's at home," the event page description said.
While there were some threats and heated language thrown at the event organisers leading up to the picnic, the event itself was relatively subdued.
The #freethenipple movement has some high-profile celebrity supporters, including Demi Moore and Bruce Willis' daughters Scout and Rumer, Rhianna and Miley Cyrus. In New York City women are legally allowed to go topless, but women rarely do because of the way women's bodies have been sexualised.
Women and men have nipples, the argument goes, but only women are being asked to hide theirs.
The issue is further compounded by the position companies like Instagram have taken on women's nipples. Censoring images with women's nipples in them no matter what the context, but allowing some far more sexualised pictures that do not show nipples.
Rihanna famously quit the social media site over its refusal to allow her to post pictures that included her nipples, but has since returned to it.
Instagram updated its guidelines in 2015, but nipples are still out.
Watch Miley Cyrus explain her position on nipples:
Women who support the #freethenipple campaign say it is about de-sexualising women's bodies and enabling women to choose for themselves how and when they bare all. It is also aimed at reducing the stigma around breastfeeding, and enabling more free discussion of and support for, women who have had mastectomies.
Breasts, the movement says, do not exist for the pleasure of men.
"We hope to grow to eventually make it so that men and women can live equally with each other, baring their chests and not suffering for it," Brisbane picnic organiser Amanda Haworth said.