Frances Abbott, the 26-year-old daughter of former Prime Minister Tony Abbott, is engaged to former Olympian Sam Loch.
In a surprise announcement via Instagram, the fitness model and Pilates instructor wrote, "Two weeks was all it took to know that forever with you was a mighty fine idea. #engaged #feyoncé #crazyinlove… #whywait #letsdothis."
The pair appear to have kept the relationship tightly under wraps until now, with Abbott referring to herself as "very, very single" in an interview published in the current issue of Harpers Bazaar.
"I always describe myself as 'so single', because that's how single I am. Like, very, very single," she said. "But I also think it's probably the best time to compete [in body building], because I don't have a guy saying, 'Let's go get some dinner!'"
Loch, 34, is a professional rower who has competed for Australia at the Beijing and London Olympic Games, placed second at the 2015 World Indoor Rowing Championships and holds several international Ergometer records.
He recently developed an indoor rowing training program, and provides online fitness coaching.
Abbott herself embraced the fitness world in earnest earlier this year, competing in a Fitness Expo body building event in Melbourne.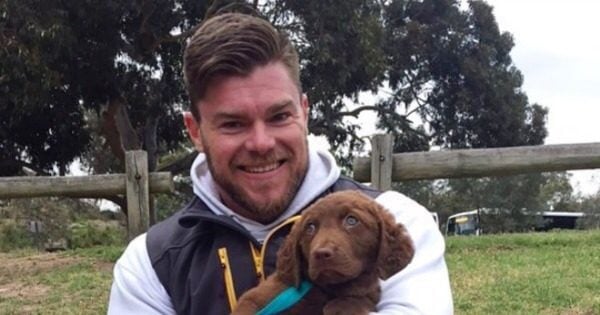 The pair also share a passion for LQGBTQI rights and marriage equality. Loch has promoted the cause during interviews and via his Instagram (which boasts more than 16,000 followers), while his fiance proved to be one of the most powerful voices in the YES campaign during the recent marriage equality postal survey.
Abbott attracted national headlines after she appeared in a video in support of the cause, despite her father's vehement opposition to same sex marriages.
Speaking of her aunt, Christine Forster, in the video, Abbott said, "You can't help who you fall in love with.
"Love just happens sometimes and it's unexpected and that's kind of what's the awesome thing about it."
Mamamia has reached out to Frances Abbott for comment.