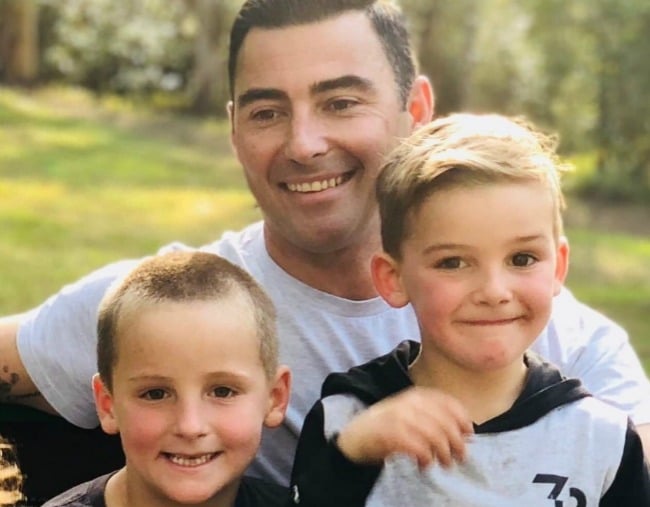 1. Sydney father plunged from balcony to protect his eight-year-old son.

When Sydney father-of-two Brad Lewis saw his son losing his balance on a friend's first-floor balcony on August 4, his instincts took over.
Friends watched the 43-year-old lunge forward to save his son, Oscar, who had been leaning over to see where his toy gun bullets had gone. But the force at which Brad moved meant he and his son toppled over the railing.
As they fell, the former army officer and deep-sea diver remembers making sure he pinned Oscar to his chest and curled around him so that he could take the brunt of the impact for his son, according to a GoFundMe page set up to help Brad and his family.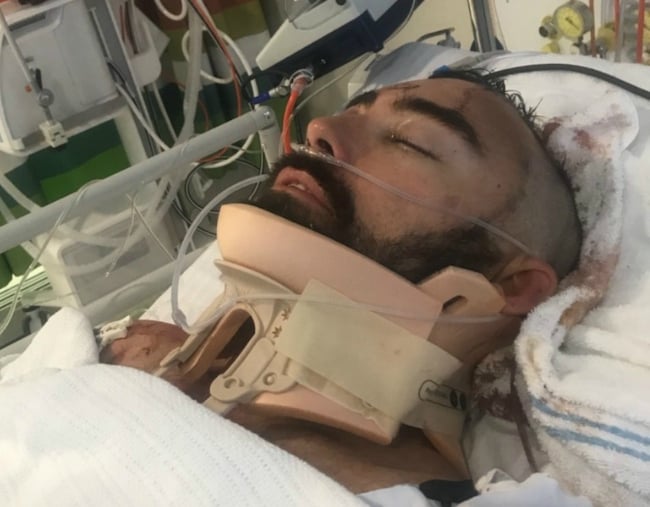 Friend Beau Worthington told the Herald Sun that after checking on Oscar, he heard Brad say "Are the kids okay? Please don't let me die."
Brad's efforts to protect his son worked. Oscar has now been released from hospital after suffering concussion, skull fractures, bruising on the brain and some other minor injuries.
Brad's injuries are far more serious. The dad took the impact of the fall on his head, resulting in major head and neck injuries: a cracked skull, bruising the brain, fractured vertebra and other head and body injuries.
But it could be a lot worse. Doctors say they're surprised Brad is even alive.
Friends set up a GoFundMe page to raise money for the family, to help with immediate and ongoing costs as Brad recovers over the next six to 12 months.
2. Dozens have been killed after a bridge collapsed in Italian city of Genoa.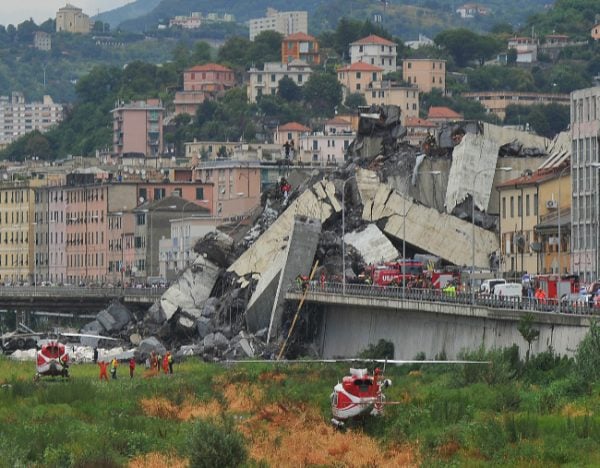 Up to 35 people have reported to have been killed after a motorway bridge collapsed in torrential rains in the northern Italian port city of Genoa.
A 50-metre high section of the bridge, including one set of the supports that tower above it, crashed down in the rain onto the roof of a factory and other buildings, crushing vehicles below and plunging huge slabs of reinforced concrete into the nearby riverbed.
At least 35 were killed in the collapse on Tuesday morning, Italy's ANSA news agency cited fire brigade sources as saying.
"People living in Genoa use this bridge twice a day, we can't live with infrastructures built in the 1950s and 1960s," Deputy Transport Minister Edoardo Rixi said on SkyNews24, speaking from Genoa.
Within hours of the disaster, the anti-establishment government which took office in June said it showed Italy needed to spend more to improve its dilapidated infrastructure, ignoring EU budget constraints if necessary.
"We should ask ourselves whether respecting these (budget) limits is more important than the safety of Italian citizens. Obviously for me it is not," said Deputy Prime Minister Matteo Salvini, who leads the right-wing League which governs with the 5-Star Movement.
Helicopter footage on social media showed trucks and cars stranded on either side of the 80-metre long collapsed section of the Morandi Bridge, built on the A10 toll motorway in the late 1960s. One truck was shown just metres away from the broken end of the bridge.
Motorist Alessandro Megna told RAI state radio he had been in a traffic jam below the bridge and seen the collapse.
"Suddenly the bridge came down with everything it was carrying. It was really an apocalyptic scene, I couldn't believe my eyes," he said.
Transport Minister Danilo Toninelli told Italian state television the disaster pointed to a lack of maintenance, adding that "those responsible will have to pay."
But Stefano Marigliani, the motorway operator Autostrade's official who is responsible for the Genoa area, told Reuters the bridge was "constantly monitored and supervised well beyond what the law required."
He said there was "no reason to consider the bridge was dangerous."
Restructuring work was carried out in 2016 on the 1.2 km-long bridge, first completed in 1967. The motorway is a major artery to the Italian Riviera and to France's southern coast.
Autostrade, a unit of Atlantia, said work to shore up its foundation was being carried out at the time of the collapse.
But the head of the civil protection agency, Angelo Borrelli, said he was not aware that any maintenance work was being done on the bridge.
Borrelli said there were 30-35 vehicles on the bridge when the middle section came down, including three lorries. He said 13 people had been hospitalised, including five in a critical condition.
Some 200 firefighters were on the scene, the fire service said, and Sky Italia television said four people had been pulled from the rubble.
3. Sydney rapper broke into couple's home before they killed him, police allege.
"It was clearly a violent attack with very, very serious consequences." #9Newshttps://t.co/ft8ryCtJgf

— Nine News Sydney (@9NewsSyd) August 14, 2018
A young couple is behind bars charged with the daylight murder of a hip-hop artist whose head was sliced with a sword after an alleged altercation at their Sydney home.
Hannah Quinn, 23, and her boyfriend Blake Davis, 28, did not apply for bail in Newtown Local Court on Tuesday.
They handed themselves into the neighbouring police station on Monday night after 30-year-old Jett McKee's body was found in the middle of a Forest Lodge intersection at lunchtime on Friday.
Police had been looking for a thin woman with bleached blonde hair and a man with short brown hair who were seen running from the scene.
Witnesses said Mr McKee was bleeding profusely as he staggered down a nearby street and then collapsed with a fatal head wound after reportedly being slashed with a samurai sword.
Police allege that Mr McKee broke into the couple's home, and in an argument, punched Davis in the face. He then ran down the street, the couple following him, with Davis arming himself with a sword.
It's alleged Quinn tackled McKee while Davis struck his head with the sword. The couple then allegedly fled as McKee died.
4. Trump calls former aide a "dog" and is now suing her.
When you give a crazed, crying lowlife a break, and give her a job at the White House, I guess it just didn't work out. Good work by General Kelly for quickly firing that dog!

— Donald J. Trump (@realDonaldTrump) August 14, 2018
US president Donald Trump's representatives have launched legal action against former adviser Omarosa Manigault Newman, alleging she breached a secrecy agreement.
Manigault Newman wrote in her new book, Unhinged, that after being sacked from the White House in December 2017 she was offered a $US15,000 ($A20,639) per month position with the Trump re-election effort in exchange for signing a new confidentiality agreement.
She said she declined that offer.
Earlier, Trump called Manigault Newman a "dog" in an extraordinary attack.
On Tuesday, Trump tweeted: "When you give a crazed, crying lowlife a break, and give her a job at the White House, I guess it just didn't work out. Good work by General Kelly for quickly firing that dog!"
That is a reference to Mr Trump's White House chief of staff, retired general John Kelly, who sacked Manigault Newman in December 2017 in a conversation she viewed as a "threat".
Trump has also retaliated after Manigault Newman claimed she had heard an audio tape of him using racial slurs while they worked on The Apprentice.
He tweeted that he had received a call from the producer of The Apprentice, assuring him "there are NO TAPES of the Apprentice where I used such a terrible and disgusting word as attributed by Wacky and Deranged Omarosa".
The president insisted: "I don't have that word in my vocabulary, and never have."
5. UK man drives car into security barrier in alleged terror attack.
London Attack:
- A man drove his car into the gates of the Parliament in London earlier today
- Multiple people injured, but none life threatening
- Suspect is in custody
- Police treating it as terror attack
- Suspect is not cooperating with policepic.twitter.com/b8eww2JOtK

— PM Breaking News (@PMBreakingNews) August 14, 2018
Police are searching three addresses in central England after a suspected terror attack outside London's Houses of Parliament.
A 29-year-old man, who is a UK national, was arrested on suspicion of preparing an act of terror after the silver Ford Fiesta he was driving collided with cyclists and pedestrians before crashing into a security barrier just before 7.40am local time on Tuesday.
Detectives believe the privately-owned car was driven from Birmingham late on Monday night, arriving in London just after midnight.
Scotland Yard said the vehicle was driven around the Westminster area from around 6am local time - more than an hour-and-a-half before the crash - having been in the Tottenham Court Road area between 1.25am to 5.55am local time.
Counter-terrorism officers are carrying out searches at two addresses in Birmingham and a residential property in Nottingham as part of the probe.
Metropolitan Police counter-terrorism head Neil Basu said the suspect, who is being held in custody at a south London police station, is not co-operating.
"Given that this appears to be a deliberate act, the method and this being an iconic site, we are treating it as a terrorist incident and the investigation is being led by officers from the counter-terrorism command," he told reporters.
"We have not formally identified him yet. On the details we have at the moment, we don't believe this individual was known to MI5 or counter-terror police."
Basu added no other suspects have been identified and there is "no intelligence at this time of further danger" to Londoners.
Two people were taken to hospital, while a third person with minor injuries was assessed at the scene, the London Ambulance Service (LAS) said.
6. Sorry Melbourne, you're only the second most liveable city now.
Australia has again fared well in a list of the world's most liveable cities, but after holding the title for seven years, Melbourne has slipped to second place.
As the terror threat eases in parts of Europe, Vienna gets the gong in the Economist's 2018 Global Liveability Index, released on Tuesday.
Despite improving its scores in some of the judging criteria, Melbourne was relegated to bridesmaid, with Sydney in fifth place and Adelaide rounding out the top-10.
"We have been number one for an unprecedented seven years in a row. The irony is this year it was our best score in eight years, coming in second," Melbourne Lord Mayor Sally Capp told journalists on Tuesday.
The index gave Melbourne 100 per cent in health care, infrastructure and education, while recording improvements in the areas of culture and environment.
WORLD'S 10 MOST LIVEABLE CITIES
1. Vienna, Austria
2. Melbourne, Australia
3. Osaka, Japan
4. Calgary, Canada
5. Sydney, Australia
6. Vancouver, Canada
7. Toronto, Canada
8. Tokyo, Japan
9. Copenhagen,
10. Adelaide, Australia