Channel 7's First Dates (Australia) has opened its second season with an absolute banger of a date.
Just one.
I recommend watching the episode online so you can cruise through the other dates until you find it. It's between Sanjay and Caitlin.
Listen to the bartender from First Dates explain what went on behind the scenes to make this date so awkward.
I'm going to recap their date and their date alone. Channel 7 is clever to hide it around 20 minutes into the episode. It's the cream in the Cadbury Creme egg of the episode.
The date opens with used car salesman Sanjay.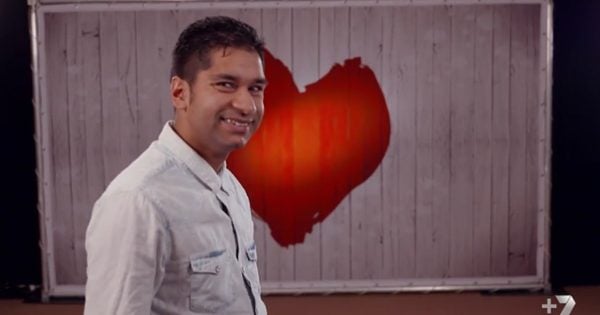 Sanjay introduces himself with "hey, hey, hey" and only gets worse from there.
He decides to give himself the rating of a 9.5 out of 10. Immediately we know three things about Sanjay:
Sanjay flicks up the collar of polo shirts.
Sanjay wears mirrored sunglasses. At night.
Sanjay owns the email address: [email protected]
For the most controversial TV moments of the week, don't miss Mamamia's TV podcast The Binge.
He continues with three memorable phrases:
"I am the catch. If there was a catch of the day, I'd be on it."
"Women, women, women, just complex beings."