When I asked my mum to recount how my very first birthday party went down, she replied with this:
"It was an afternoon tea at home with your grandparents and a few aunties and uncles. I think. I don't really remember. We might have a photo of you in a chair. I'm pretty sure I got your cake from the supermarket. I don't really know. It wasn't a big deal."
I asked her this question, of course, because over two decades on I do not have the faintest clue what happened on my first birthday. You know, because I was one.
First birthdays are out of control, dear reader friends. They are out of bloomin' control.

My mum's description is a bit of a teeny tiny contrast between the first birthday parties that are all over Instagram right now. You know the ones, where chubby babies are treated to three-tier gold-encrusted cakes, personalised "photo walls", mountains of crisply wrapped presents, face painting, and professional catering – all while possessing the memory of a common goldfish.
For instance, take the Australian celebrity who, this year, enlisted the help of event planners, professionals photographers, and 'live illustrators' (don't worry, I don't know what they are either) to make her child's first birthday come to life.
I'm stoked that very small humans can observe such luxuries in between nappy changes. I just don't, quite, um… understand why this is a thing.
*Braces for angry sleep-deprived mums to hurl smashed cake at their screens*
No, seriously. I don't say that to be mean, or stomp all over your pretty cupcakes. I just want to know – am I missing something? Do I need to have a child to realise that throwing a first birthday party the size of a wedding is absolutely necessary? Am I soulless? Is this why automatic doors don't open for me anymore?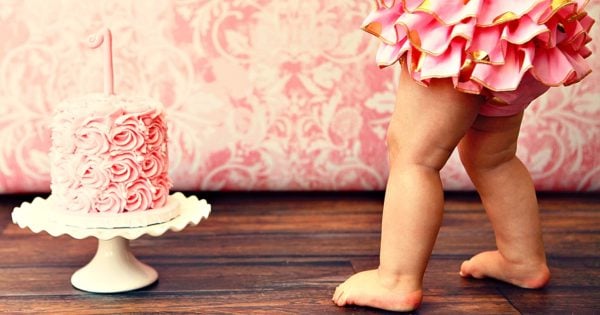 I love a good party as much as the next person. I also love one-year-olds and their cute little feet.