For most of us, starting a new job means ensuring your best outfit is freshly ironed, getting a good night's sleep and planning your commuter route days in advance. But according to some Reddit users, not everyone takes their new opportunity that seriously.
Sharing horror stories in a thread titled "Employers and managers who had to fire someone on their first day, what happened?", users from around the world are discussing some of their most memorable terminations. And as per Reddit usual, the thread does not disappoint.
"He tried to buy weed off a customer just because the customer looked like someone who might have weed," one user began.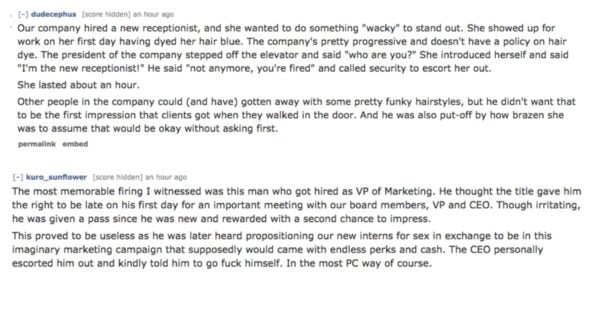 The reasons for firing someone on their first day were flowing. Source: Reddit. 
"I'm not a manager, but I had a potential co-worker who called in sick," another user wrote. "I guess he didn't know that the manager didn't have to work through the evening and bumped into him at the movies. My boss told us this as he fired him the next day."
One user, who is a primary school teacher, said they were showing a new employee around a year 5 class she told a student, "I don't like you very much. Figure it out yourself." Needless to say, it was a comment that ended in an immediate dismissal.
"Not an employer or manager," another user wrote, "but a girl at my job showed up absolutely plastered on her first day of work. Working at a machine shop, I'm sure you can imagine that this was especially a no-no."