Watching Fifty Shades Darker is like sitting through a very uncomfortable, yet very entertaining second date.
Deep down, you know this is not a long-term relationship worth investing your heart and soul in, but by God it's fun to sip that glass of wine while the person in front of you ignores all social conventions and continues to wax lyrical about their cat/weird food fetish/sad millennial issues.
Fifty Shades Darker is the follow up to Fifty Shades of Grey, the blockbuster film that carried movie ticket and soft core sex toy sales through 2015, and picks up where the first film left off.
For those of you who have not seen it (solid life choice, by the way), the audience was left hanging after our heroine Anastasia Steele, she of the perpetual lip chew and lover of "English books", decided that being whipped by a control freak with otherworldly good looks yet no actual extra super powers wasn't the best use of her time.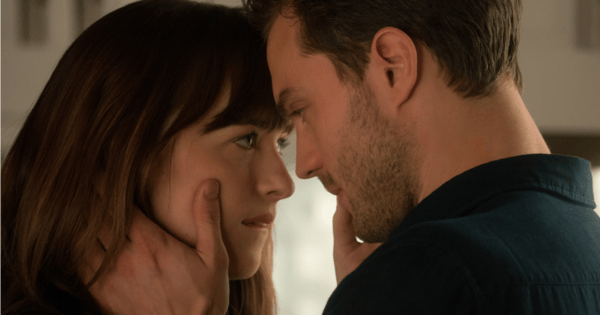 (Source: Universal Pictures)[/img_caption]
Look, we all make mistakes. When I was her age I accidentally dyed my hair and eyebrows Raggedy Anne orange. Ana's scarring should be far less permanent.
However, in Fifty Shades Darker, all those fears Ana seemed to have about shacking up with American Psycho: The Early Years seem to have quickly ebbed away and she is beyond keen for round two.
 Jessie Stephens and Luca Lavigne recap Fifty Shades Darker with Laura Brodnik and a very scarred Monique Bowley, on The Recap. (Post continues after audio).
And Christian, the guy who couldn't commit to a relationship unless it involved total submission from his woman and no mention of his unfortunate case of Resting Serial Killer Face, has decided that Ana is the one for him.