Talia Gargan, 21, has earned the respect of women everywhere after her response to her Tinder match's fat-shaming comments went viral.
The 21-year-old woman shared screenshots of her conversations with the man and it should be noted that this happened not once, but twice, and on two separate social networking platforms.
The Lancaster, UK, resident was first accosted by the man after she shared a photo of herself wearing a bikini on Snapchat.
Commenting on her photo, he wrote, "Bit of a belly on ya aren't you."
"Really didn't think you looked like that."
Not letting his comments get to her, she was unabashed in her response.
"Hahahaha, I wasn't made to impress you," she wrote.
"You w**ker."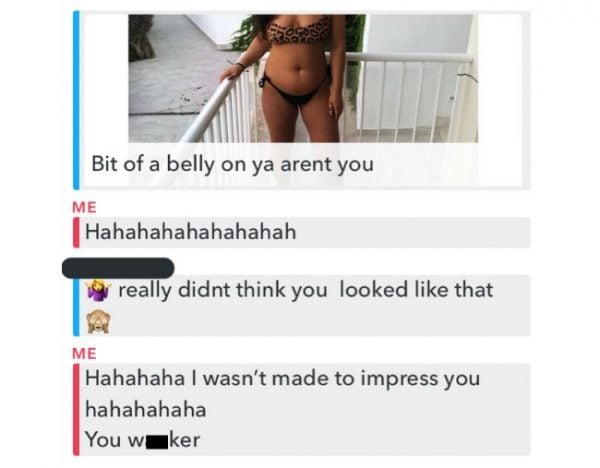 With that, she promptly blocked him.
But unfortunately this wasn't the end of things and the mystery assailant remade contact on Tinder and this time accused her of 'catfishing,' referring to the dating term when someone assumes a different identity to pursue a romantic relationship.
"Sexy belly," he wrote.
"Really glad you uploaded this btw. Would've been annoying meeting [and I'm] wasting [my] time [being] catfished."
This time she didn't hold back, and we applaud her for it: