After winning his 18th grand slam title at the Australian Open, Roger Federer has made an emotional tribute to his wife, Mirka.
"She was there when I had no titles and she's still here 89 titles later," Federer said on Monday. "She had a big part to play in it – she knows it, I know it, everybody knows it."
The Swiss champion understands the importance of family, adding, "She's a mum and wife first and only later does she become the supporter."
"I'm just happy she's my wife and she's my No.1 supporter."
And it's not the first time Federer's love for Mirka has made us weep. Shortly after claiming victory against Spanish opponent Rafael Nadal on Sunday night, Federer went to hug his wife Mirka in an emotion-filled embrace that was captured on camera.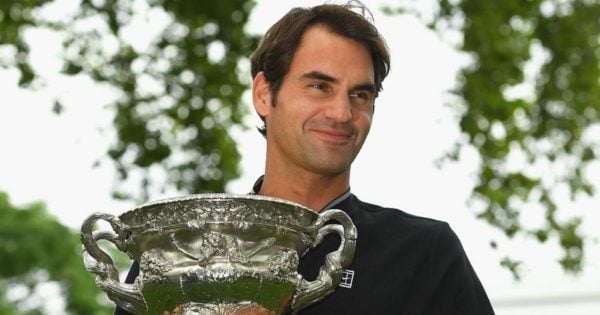 This isn't the first time the mum-of-four has caught the attention of audiences while supporting her tennis star husband.
A flamboyant jumper Mirka wore during Thursday night's semi-final divided many for its unusual appearance.
We should all live our lives a little more like Mirka Federer's sweater. Colorful and bright.#FedererVsWawrinka pic.twitter.com/NXKMyvLfUn

— Miriam Frei (@_miriamfrei_) January 26, 2017
The couple have been married since 2009. They have four children together including identical twin girls, Myla and Charlene, and twin boys Leo and Lenny.
We hope this isn't the last we see of our favourite Swiss couple.