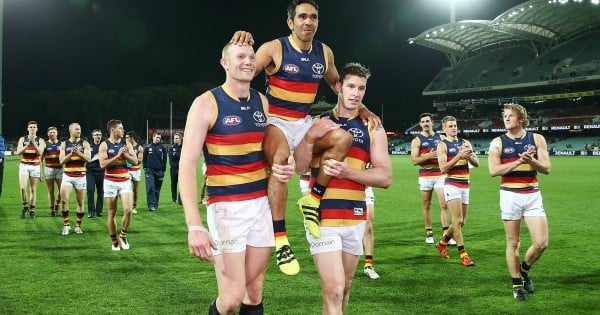 The Port Adelaide fan who was filmed throwing a banana at indigenous Adelaide Crows player Eddie Betts has gone into hiding, but a man who claims to be her father has defended her.
Speaking to an Adelaide radio station this morning, the man, who said his name was Don, claimed his daughter has been "demonised," and argued that the "racist card" was being played.
'Don' said he is yet to speak to his daughter, who is allegedly 27-years-old and lives with her mother. He told FIVEaa radio that he only found out about the incident yesterday, when his older sister called him to tell him the news.
"Trust me (I am her father), I'm the most honest person," he said.
"You won't believe it, but my older sister rang me yesterday afternoon. I knew nothing about it.
"I knew the incident had occurred, and then there were people that I knew and I said 'look, show me on the phone', and there it was — my daughter.
"I am just absolutely shocked. I'm just beside myself. Because it's just so uncharacteristic. This kid is a beautiful kid.
"She's very similar to her mother — unassuming, honest. This was so uncharacteristic."
The woman is alleged to have called Betts a 'monkey' as well as throwing the banana, and has been accused of displaying poor behaviour at previous games. In video footage taken of the incident, Adelaide Crows player Josh Jenkins can be seen catching the banana, which was obviously aimed at Betts.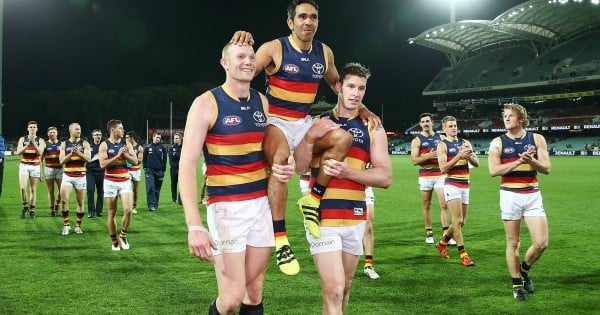 Following the attack, Port Adelaide president David Koch announced: "If it was racially motivated, not only would she be banned for life from the club, we would encourage her to come and sit with our players, our Aboriginal players, and try and understand what these actions mean to them."