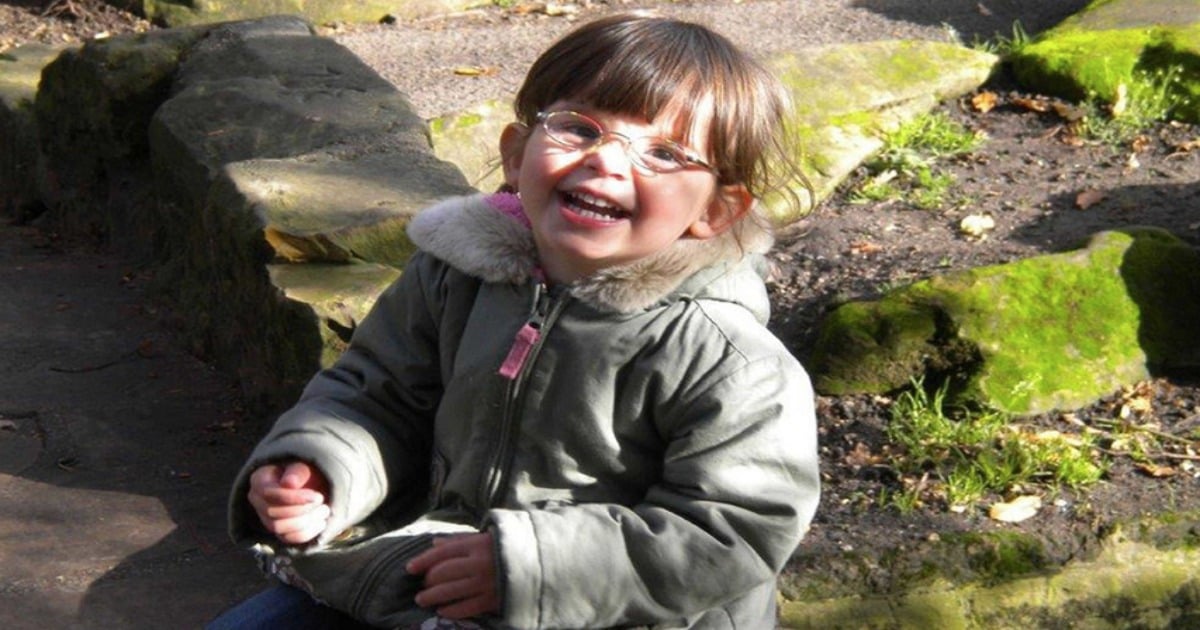 He claimed he was just a normal stay-at-home dad.
He claimed he treated his daughter like a princess, feeding her treats such as jam sandwiches and crisps for breakfast. They'd skivvy off school, he said, and go shopping for dress-up outfits while her mother worked in the city as a graphic designer.
He said that one day, while her mother was at work, he found six-year-old Ellie unconscious in her room, where she had been watching her favourite TV show, Peppa Pig, with her younger sister. He said she had been jumping up on down on her bed and tripped.
Ben Butler and Ellie, aged 6. Via BBC News
The evidence told a different story.
It told of violent man with a volcanic temper. It told of a volatile family life, of aggressive outbursts and resentment.
It told of a father who lost his temper and beat his terrified six-year-old daughter so violently that her head resembled "a boggy mass."
It told of murder.
Shortly after killing his daughter Ben Butler, 36, from Sutton in the UK, called his partner, Jennie Gray and demanded she come home from work.
Gray flagged down a taxi, told the driver, "Can you take me, my child is really ill?" arriving home at around 1.50pm.
But it wasn't until two hours after Ellie died the pair placed a call to emergency services screaming in a distressed state down the phone pretending they had just discovered Ellie dead.
Listen to the call they placed to 999. Video via ITV News. 
But in actual fact Butler and Gray had spent the previous hour covering up how Ellie had died and re-arranging her room to stage the "accident."
Butler and Gray even attempted to cover their tracks by sending Ellie's younger sibling to discover her body, something for which the child has had to undergo therapy reports The Telegraph.
In a police interview Gray subsequently admitted that this had been a lie and Ellie had been dead when she got home.
Yesterday a British court found the pair guilty.
Butler was found guilty of the murder of his daughter, while Gray, who has appeared as an extra on British television shows, Eastenders and The Bill, was found guilty of covering up the murder.
The judge said he was satisfied Butler had caused a serious injury to his daughter on October 1.
"Thus it is that when, on October 28, you feeling under the weather and trying to catch up with your chores, lost your temper with Ellie and attacked her with lethal violence, it was not a tragic aberration but was all too consistent with your treatment of, and your attitude towards, her."
Jennie Gray and Ben Butler campaigned to have Ellie returned. Via Facebook.
The treatment he was referring to began just weeks after Ellie was born.
In 2009 Butler was jailed for shaking Ellie in 2007 when she was just six weeks old.
While in the sole care of her father, Ellie was found to be "suddenly soft and limp". Scans showed she had serious injuries.
It was the second time he had cared for her – he and Gray had only met shortly before she fell pregnant and Butler had not even attended Ellie's birth. The first time Butler looked after the newborn Ellie had suffered radiator burns to her head and hand.
After the shaking she was placed in the care of her grandparents and her father jailed.