"I felt like infertility was my identity," Lindsay Vargas, now 35, told the world via a video shared to a crowd-funding page.
She held back tears as she described the way she and her husband, 37-year-old Brian Vargas, had fought and spent their savings and had their hearts broken over and over again to have children.
She was laying herself bare in desperation. "Help us have a baby," the GoFundMe page was headlined.
Now, after 13 years of emotional and physical upheaval, that wish has finally come true.
The Nebraskan couple, who were married in 2005, welcomed a daughter via adoption in October. They have also just learned their surrogate is pregnant with twins, due in April.
"When we started trying to fall pregnant, I figured it would take a few months," hairdresser and businesswoman Lindsay told Yahoo Lifestyle.
A year and a half later they'd had no luck and Lindsay tried using medication to help trigger ovulation. It ended with a severe side-effect. "My doctor kept increasing the dose beyond the recommended length of time and didn't monitor me," says Lindsay. "As a result, I developed a softball-sized cyst on my ovaries."
There was surgery to remove the cyst. Then, there were 13 rounds of IVF.
"I kept getting pregnant, but I'd miscarry each time after about eight weeks," Lindsay told Yahoo. "We'd hear the baby's heartbeat at our first ultrasound, but at the next appointment there would be no heartbeat."
Deb Knight did 14 rounds of IVF and then had a baby naturally. Post continues below.

Meanwhile the people around her were falling pregnant and having baby showers and laughing in birthing classes and complaining of sleeping schedules interrupted by hungry crying.
"The emotional ups and downs were killing me. I pretended to be fine and kept my head up," Lindsay said in the GoFundMe video. "Everyone around me was getting pregnant. Everywhere I looked were beautiful baby bumps. I was losing hope."
Lindsay and Brian went through 15 miscarriages and one ectopic pregnancy. Finally, the doctors told her she'd been through enough. "He said, 'There's nothing we can do for you. We need to give up on your body'," Lindsay told Yahoo.
It was at this time her sister, Kelly O'Toole – a 40-year-old mother-of-three – offered to carry their baby as a surrogate. But this wasn't easy, either. During scans, doctors found a benign tumour on one of Kelly's ovaries that had to be removed along with the ovary itself.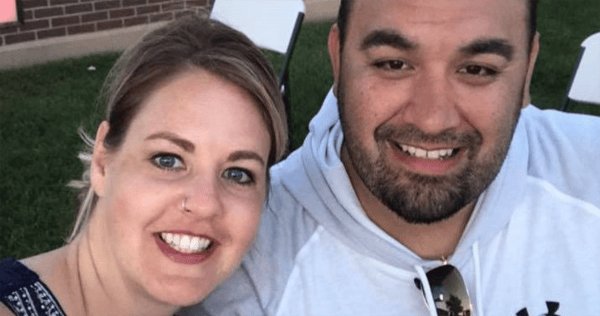 Throughout this time, the couple tried on three occasions to apply for adoption, Lindsay told Yahoo. Nothing came to fruition.
After four failed surrogacy attempts using Kelly's eggs and a donor's sperm, the couple turned to GoFundMe and they were contacted by a woman asking them to adopt her unborn baby.
Lindsay and Brian travelled to California for the October 15 birth of their adopted daughter, Henley. "I cried like an absolute baby," Lindsay told WOWT News in the US. "Absolutely sobbing."
Soon after, the couple learned their final attempts to fall pregnant via surrogacy - using Lindsay's harvested eggs, as opposed to Kelly's - had succeeded.
Twins, a boy and a girl, are due in April.
"We've been through hell and back, but it's worth it," Lindsay said.
Thank you - just by clicking on this and other content on Mamamia, you are helping to fund education for some of the world's most disadvantaged girls.
Together with our commercial clients and charity partner Room to Read, Mamamia's goal is to be funding 1,000 girls in school each and every day, by June 2020.
Learn more here about our ongoing mission to make the world a better place for women and girls.