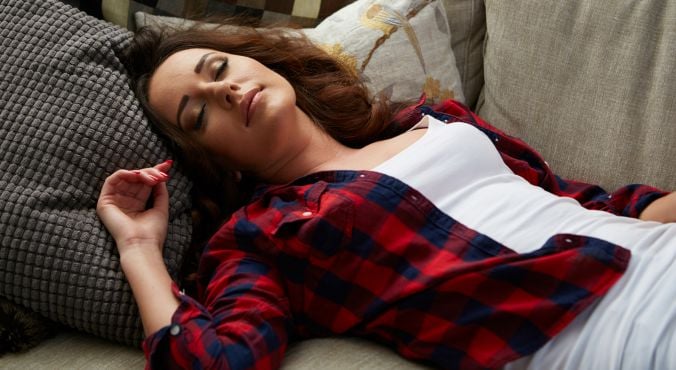 Image: iStock. By Melinda Jackson, RMIT University.
During my first lecture to third-year psychology students, I noticed one of the students was asleep for the whole hour-long lecture. I immediately thought – is the lecture boring? Am I speaking in a monotone voice? Is the content uninteresting?
The following week, and every week for the rest of the semester, the same student was asleep every single lecture.
Surely not every one of my lectures was that uninspiring that he couldn't stay awake for just a few minutes?
It got me thinking – the lecture was at 9am – perhaps he is a night owl and mornings do not suit him. He may have been working late and did not get sufficient sleep the night before each lecture. Perhaps he has a medical condition or is using prescription medication that makes him drowsy.
The fact is, many factors contribute to us falling asleep unexpectedly, in inappropriate places, or even when we really don't want to.
Watch: Mamamia Confessions: What Mums get up to when their children are asleep. (Post continues after video.)
Factors that influence our alertness
We might feel drowsy during the day for a number of reasons, including prescription medication, eating a big meal, dehydration and medical conditions.
From a sleep science perspective, our alertness levels can be influenced by three factors: time awake, time of day, and time on task. The longer we stay awake, the higher our drive or propensity for sleep (making it easier to fall asleep) and the sleepier we feel. Once sleep is initiated, the propensity for sleep reduces the longer we are asleep.
Our alertness also waxes and wanes across the day and night, reflecting a circadian rhythm. Our lowest alertness level (the nadir) is around 4am, with a second drop in the early afternoon. Most of us have experienced that dozy feeling we get in the mid-afternoon, aptly referred to as the "post-lunch dip".
This is a common time for a midday siesta (derived from the Latin hora sexta "sixth hour") to take place. While there may be climatic and cultural reasons for this midday nap, there are also biological processes in play that make it easier to fall asleep at this time of day.