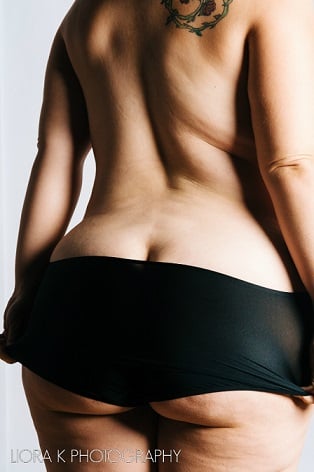 We run literally thousands of posts on Mamamia over a 12 month period and we've collated the most popular 20 of 2014 to count down as we bring in the new year.
Number twelve is bringing real women's bodies back into the media… and we love it.
Here at Mamamia, we talk a lot about the representation of women in the media. Specifically, about how the photoshopped and manipulated images of women's bodies that we see in magazines and on TV are usually nothing like what we see when we look in the mirror…
More and more, women are pushing back against this idea of 'ideal' beauty. They're sharing un-retouched photos of their post-baby bellies, posing in bikinis, and showing the world their scars look like.
And this next series is another amazing example of the power and beauty of 'real' women.
When we first saw the Expose Project we were blown away.
It's a collection of images that were taken of 100 women who gathered together to show the sheer diversity of their shapes, skin, scars and soft and wobbly bits.
The creators of the project – Liora K and Jes Baker – have very generously shared the photo series with us, and we're incredibly honoured to show it to you today.