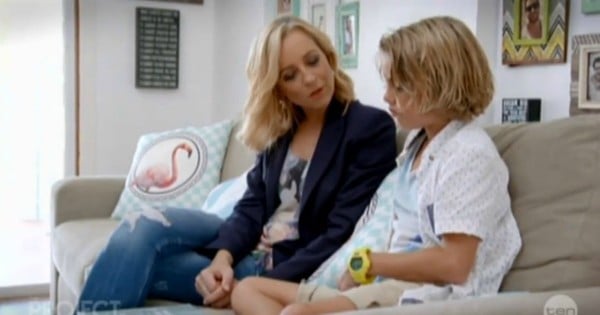 Last week, Mamamia reported on the incredible crowdfunding efforts of Brisbane mum Donna Penny.
Donna, 42, was first diagnosed with breast cancer seven years ago. Since then, she has been battling the disease as it has spread to her lymph nodes, shoulder and spine.
She struggled, both practically and emotionally, with how to explain her cancer to her youngest son Kai.
Donna was desperate to answer his heartbreaking question: "Of all the mummies in the world, why is this happening to my mummy? Why my mummy?"
Last night on The Project, Carrie Bickmore threw her support behind Donna to talk about how important it is to have her book Why My Mummy? published.
"I know first hand, it's very hard to find resources for young kids to explain to them what is happening to mummy or daddy," said Carrie. "A lot of the books are really dark and really sad."
The Project host understands how hard it is for children to understand the loss of a parents to cancer. She husband Greg died from brain cancer in 2010 when their son Ollie was just three years old.
"I just wanted to explain to him what cancer was doing to me, but in a really positive way," said Donna. So she wrote her own heart-felt children's book, from the perspective of a child whose mum is battling cancer.