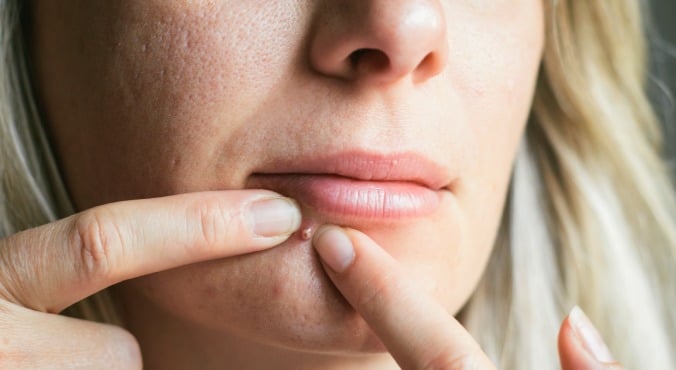 Image: iStock. By Michelle Rodrigues, St Vincent's Hospital Melbourne.
To squeeze or not to squeeze? I'll admit that I'm no skin saint. I have stood in front of the mirror on a number of occasions as a teenager with a big pimple staring right back at me. And yes, despite being advised not to, I have squeezed, picked and popped.
But is this really a crime against the skin?
The answer is yes. Squeezing and trying to pop pimples is definitely not the best solution and can actually make your skin worse.
How pimples form.
Acne is one of the most common inflammatory skin conditions in adolescents. More than 80% of teenagers battle with pimples. It can also occur later in life for a number of reasons, including an imbalance of hormones called androgens.  (Watch at your own peril: the blackhead-exploding video. See more on their Facebook. Post continues after video.)
At the moment, we need more research to fully understand the causes of acne. Oil glands (sebaceous glands), located in the skin at the base of the hair follicle, excrete oil (sebum) to lubricate the surface of the skin and hair. All parts of the body contain sebaceous glands, except the palms and soles of the feet.
Acne was previously thought to come from lack of normal shedding of the skin cells that line the sebaceous (oil gland) follicle. This was thought to lead to thickened skin and the formation of small comedones (black and white heads).
But there has been a shift in this thinking in recent years. Acne is now viewed primarily as an inflammatory skin disorder.
Why you shouldn't squeeze.
A pimple is like a little bag under the skin that contains oil, bacteria and inflammation. Squeezing it can result in these contents being pushed into surrounding skin, making the problem worse. It can also lead to infection and temporary darkening of the skin in that area.