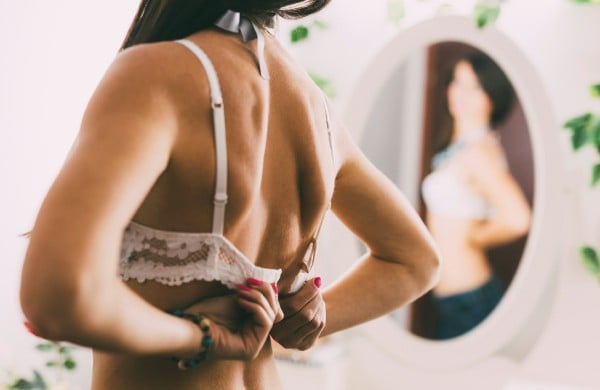 It's the shopping task that ranks second only to buying bikinis in terms of frustration, difficulty, and how quickly you find yourself reduced to tears in the changing room. Yes, we're talking about bra shopping.
Whether your large or small breasted, it's a rare occasion where you can just walk into a store, pick up some items and find they fit half decently. So what's the secret? Is it even humanly possible?
Private plus size bra specialist and Miss Scarlett Did It founder Regina Pascuzzzi is here to help you and your girls.
1. Your bra is most likely ill-fitting.
Sorry.
"80 per cent of the time, women are wearing the wrong size," says Pascuzzi.
2. But don't feel bad about it.
It's not your fault – there's an art to it, people.
"So many people apologise for the bra they are wearing. I would love women to understand that there is no judgment when they come in to see me or any other person who does this. We are all driven by a need to help," she says.
WATCH: Mia Freedman has a bra epiphany. Post continues after video.
3. It is possible to judge a bra size with just one look.
Now, THAT's a good party trick.
"Thanks to Google answering my question 'where does the Queen get her bras?' (Rigby and Peller), I took myself off to the UK to have that experience," says Pascuzzi.
"My fitter, Pam (you never forget the name of the woman who changes your life) took one look at me and could tell me my size, the shape of my breasts and subsequently what cup shape would best work. Two years later I was back in the UK learning how to do exactly that."
4. Your back is more important than your boobs.
It's not just your boobs you need to be paying attention to if you want the perfect fit.
"When a woman comes to see me I ask a number of  questions and am able to confirm the size she is currently wearing, the shape of her breasts (fuller on the side, full all over, fuller on the bottom) and by the posture, how they are distributing their weight to compensate for the bra not doing its job properly," she says.
"Contrary to popular belief, a woman's back tells you as much, if not more than her breasts."